MOTORIZATION OF LIVERPOOL MAIL SERVICES.
7th July 1925
Page 9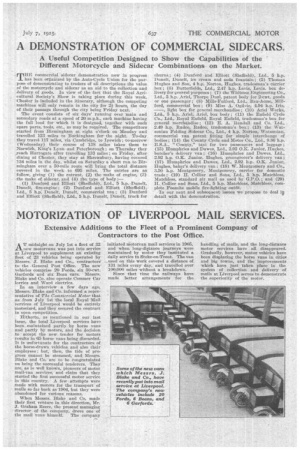 Page 10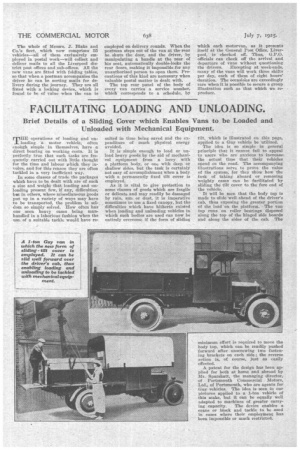 Page 9, 7th July 1925 —
MOTORIZATION OF LIVERPOOL MAIL SERVICES.
Close
AT. midnight on July let a fleet of 32 new motorvans was put into service at Liverpool to supplement an existing fleet of 23 vehicles being operated by Messrs. J. Blake and Co., contractors' to the General Past Office. The now vehicles comprise 20 Fords, six 30-cwt. Garfords and six Bean cars. Messrs. Blake and Co. also operate Commer Car lorries and Ward electric.
In an interview a few days ago, Messrs. Blake and Co. informed 'a representative of The Commercial Motor that as from July lst the local Royal Mail services of Liverpool would be entirely motorized, and they secured the contract in open competition.
Hitherto, as mentioned in our last issue, the local Liverpool services have been maintained partly by horse vans and partly by motors, and the decision to ' accept the new tender for motors results in 05 horse vans being discarded. It is unfortunate for the contractors of the horse-drawn vehicles and also their employees ; but, then, the tide of progress cannot" be stemmed, and Messrs. Blake and Co: are to be congratulated on being the successful tenderers. They are, as is well known; pioneers of motor mail-van serviCes, and claim that they started the first successful motor service in this country.. A few attempts were made with motors for the transport of mails so far back as 1904, but they were abandoned for various reasons.
When Messrs. Blake and Co. made their first venture in this direction, Mr. 3. Graham Reece, the present managing director of the company; drove one of the mail vans himself, The company initiated niotorvan mail services in 1905, and when long-distance journeys were maintained by motor they instituted a daily service to Stoke-on-Trent. The van . used on this work covered a distance of 131 rria's every day, and travelled over 100,000 miles without a breakdown. Since that time the railways have made better arrangements for the handling of mails. and the long-distance motor services have all disappeared. Gradually, however, motor vehicles have been displacing the horse vans in cities and big fawns, and the improvements which have just taken place' in the system of collection and delivery of mails at Liverpool serves to demonstrate the superiority of the motor.
The whole of Messrs. J. Blake and Co.'s beet, which now comprises 55 vehicles—all of them exclusively employed in postal work—will collect and deliver mails to all the Liverpool district post offices and sub-offices. All the new vans are fitted with folding tables, so that when a postman accompanies the driver he can be sorting mails for delivery during the journey. They are all fitted with a locking device, which is found to be of value when the van is employed on delivery rounds. When the postman steps out of the van at the rear he shuts the door, and the driver, by manipulating a handle at the rear of his seat, automatically double-locks the rear doors, making it impossible for any unauthorized person to open them. Precautions of this kind are necessary when valuable postal matter is dealt with.
The top rear panel of the body of every van carries a service number, which corresponds to a schedule, by which each motorvan, as it presents itself at the General Post Office. Liverpool, is checked off. Thus, G.P.O. officials can cheek off the arrival and departure of vans without questioning the drivers. Excepting at week-ends, many of the vans will work three shifts per day, each of them of eight hours' duration. The occasiOns are exceedingly rare when it is possible to secure a group illustration such as that which we reproduce.