A New Rubber Tyre for the Agrirnotor.
7th July 1925
Page 41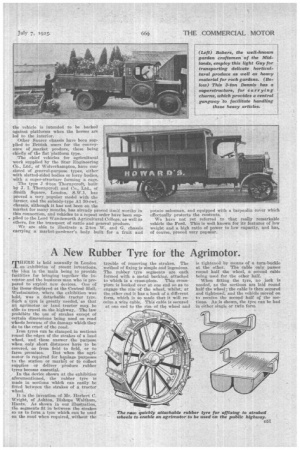 Page 41, 7th July 1925 —
A New Rubber Tyre for the Agrirnotor.
Close
rpHERE is held annually in London TO exhibition of recent inVentions, the idea in the main being to provide facilities for bringing together the inventor and the business man who is prepared to exploit new devices. One of the items -displayed at the Central Hall, Westminster, where the exhibition was
was a detachable tractor tyre. Such a: tyre is greatly needed,so that an agrirnotor or land tractor may be able to travel on_the highway. The law prohibits the use of strakes except of certain dimensions being used on road wheels because of the damage which they do to the crust of the road.
Iron tyres can be clamped in sections round the edges of the strakes of a land wheel, and these answer the purpose when only short distances have to be covered, as from field to field, or to
farm premises. But when the agrimotor is required for hvilage purposes to the station or market or ta collect supplies or deliver produce rubber tyres become essential.
In the device shown at the exhibition aferementioned, the rubber tyre is made in sections which can easily be fitted between the strakes of a tractor wheel.
It is the invention of Mr. Herbert C. Wright, of Ashton, Bishops Waltham, Hants. As Shown in our illustration, the segments fit in between the strakes so as to form a tyre which can be used on the road when required, without the trouble of removing the strakes. The 'method of fixing is simple and ingenious. The rubber tyre segments are each formed with a metal backing, attached to which is a cross-pieee. This crosspiece is hooked over at one end so as to engage the rim of the wheel, whilst, at the other end it has a hook of a different form, which is so made that it will receive a Wire cable. This cable is secured at one end to the rim of the wheel and is tightened by means of a turn-buckle at the other. The cable only passes round half the wheel, a second cable being used for the other half. .
When fitting the tyre, no jack is needed, as the sections are laid round half the wheel ; the cable is then secured and tightened, and the vehicle Moved on to receive the second half of the sections: As is shown, the tyre can be had in either single or twin form