SOME USEFUL BEGLAWAT FITTINGS.
7th July 1925
Page 35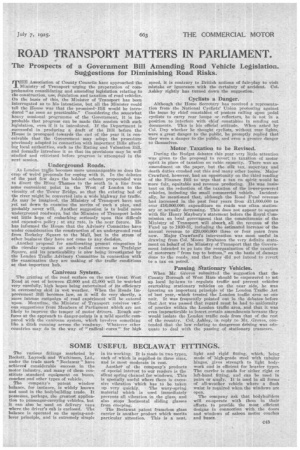 Page 35, 7th July 1925 —
SOME USEFUL BEGLAWAT FITTINGS.
Close
The various fittings marketed by Beckett, Laycock and Watkineon, Ltd., under the trade Mark "Beclawat " have achievegl considerable success in the motor industry, and many of them constitute standard equipment on buses, coaches and other types of vehicle.
The company's patent window balance, for instance, is widely known and used in the bodybuilding trade. It possesses, perhaps, the greatest application to passenger-carryilig vehicles, but it can also be used on delivery vans where the driver's cab is enclosed. The balance is operated On the spring-andlever principle, and is extremely simple
in its working. It is made in two typen, each of which is Supplied in three sizes, and is most moderate in cost.
Another of the company's products of special interest to our readers is the silent spring channel for windows. "This is specially useful where there is excessive vibration 'which has to be taken up very quickly. The wavy-spring material which is used immediately prevents all vibration in the glass, and also stops horizontal sliding glasses from creeping.
The Beelawat patent frameless glass carrier is another product which merits particular attention. This is a neat,
light and rigid fitting, which, being made of -high-grade steel with tubular hinges, gives strength to light bodywork and is efficient for heavier types. The carrier is made for either right Or left-hand fitting, and can be used in pairs or singly. It is used in all forms of all-weather vehicle where a flush waist is required when the windows are open.
The company ask that bodybuilders will co-operate with them in their efforts to provide the most efficient designs in connection with the doors and windows of saloon motor coaches and buses. •