THE 84th ROYAL AGRICULTURAL SHOW.
7th July 1925
Page 17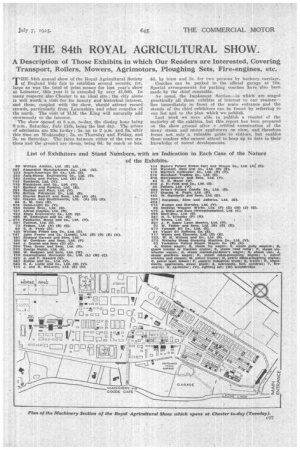 Page 17, 7th July 1925 —
THE 84th ROYAL AGRICULTURAL SHOW.
Close
THE 84th annual show of the Royal Agricultural Society of England bids fair to establisn several records, for, large as was the total of prize money for last year's show at Leicester, this year it is exceeded by over £1.000. In many respects also Chester is an ideal site ; the city alone is well worth a visit for its beauty and historical interest, and these, coupled with the show, should attract record crowds, particularly from Lancashire and other counties of the north. The visit of H.M. the Mug will naturally add enormously to the interest
The show opened at 8 a.m. to-day, the closing hour being 8 p.m., Saturday, July 11th, being the last day. The prices of admission are 10s. to-day ; 5s. up to 2 pan. and 3s. after this time on Wednesday; 3s. on Thursday and Friday, and 2s. on Saturday. The fares between either of the two stations and the ground are cheap, being 6d. by coach or bus, 4d. by tram and 3s. for two persons by hackney carriage. Couches can be parked in the official garage at 10s. Special arrangements for parking coaches have, also been made by the chief constable.
As usutd, the Implement Section-in which are staged practically all those exhibits of interest to our readers-'-lies immediately in front of the main entrance and the stands of the chief exhibitors can be found by referring to our list and to the plan which we publish.
• Last week we were able to publish a rkutne of the majority of the exhibits, but this report has been prepared on the show ground after a critical examination of the many steam and motor appliances on view, and therefore forms not only a valuable guide to visitors, but enables those readers who cannot attend to keep up to date in their knowledge of recent developments.