• IMPROVEMENTS IN AN AMERICAN CHASSIS.
7th July 1925
Page 13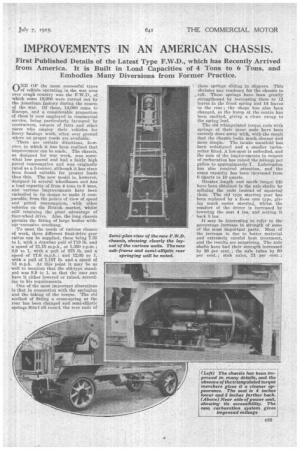 Page 14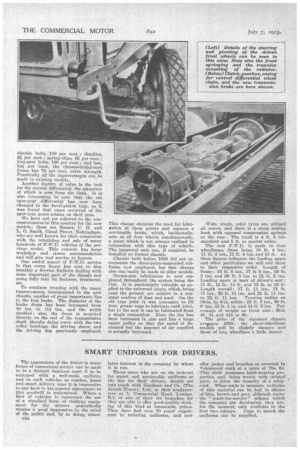 Page 13, 7th July 1925 —
• IMPROVEMENTS IN AN AMERICAN CHASSIS.
Close
OrINE OF the most successful types of vehicle operating in the war area over rough country was the E.W.D., of which. some 18,000 were turned out by the American factory during the course of the war. Of these, 14,000 came to Europe, and a considerable proportion of them is now employed in commercial service, being particularly favoured by contractors, owners of fairs and other users who employ their vehicles for heavy haulage work, often over ground where no proper roads are available.
There are certain directions, however, in which it has been realized that improvement can he made. The chassis, as designed for war work, was somewhat low geared and had a fairly high petrol consumption and was originally rated as a 3-tonner, although it has since been found suitable for greater loads than this. The new model is, however, designed in several wheelbases and has a load capacity of from 4 tons to 6 bons, and various improvements have been embodied in its design to make it comparable, from the points of view of speed and petrol consumption, with other vehicles on the British market, whilst still retaining the great advantage of four-wheel drive, u, the long chassis permits the fitting of large bodies without-excessive overhang.
To meet the needs of various classes of work, three different final-drive gear ratios can be supplied, these being 7.25 to 1, with a drawbar pull of 719 lb. and a speed of 21.15 m.p.h., at 1,350 r.p.m.; 8.9 to 1,• with a pull of 875 lb. and a speed of 17.6 m.p.h.; and 12.05 to 1, with a pull of 1,187 lb. and a speed of 13 m.p.h. At this point it may be as well to mention that the old-type standard was 8.9 to 1, so that the user .can have it either lowered or raised, according to his requirements.
One of the most important alterations is that in connection with the springing and the taking of the torque. The old method of fitting a cross-spring at the rear bas been changed and semi-elliptic springs fitted all round, the rear ends of ' these springs sliding in slippers. This Obviates any tendency for the chassis to
*roll. These springs have been greatly strengthened by increasing them to 12 leaves in the front spring and 14 leaves in the rear ; the shape has also been changed, as the hump at the centre has been omitted, giving a clean sweep to the spring leaf.
The old triangulated torque rods with sprino's at their inner ends have been entirely done away with, with the result that the chassis looks much cleaner and more simple. The intake manifold has been redesigned and a smaller carburetter fitted. A hot-spot is embodied, and the sum of the improvements in respect of carburation has raised the mileage per gallon to approximately 7. Lubrication has also received attention, and the sump capacity has been increaSed from 0 quarts to 10 quarts.
Greater .length and much longer life have been obtained in the axle shafts by splinino. the ends instead of squaring them. 'The old type steering gear has been replaced by a Ross cam type, giving much easier steering", whilst the comfort of the driver is increased by lowering the seat 4 ins. and setting it back 5 ins.
It may be interesting to refer to the percentage increase in strength of some of the most important parts. Most of the increase is due to better. Material and extremely careful heat treatment, and the results are surprising. The axle shafts have had their strength increased by 20 Per cent.; the axle tubes by 00 per cent.; Stub axles, 21 per cent. ;
shackle bolts, 100 per cent.; shackles, 41 per cent.; spring clips, 85 per cent.; ring-gear bolts, 100 per cent.; and last, but not least, the chrome-nickel-steel frame has 76 per cent, extra strength. Practically all the improvemepts can, be made in existing models.
Another featiire of value is the lock for the central differential, the actuation of which is now from the dash. It is also interesting to note that the old spur-gear differential has now been changed to the bevel-pinion type, as it was found that cases occurred of the spur-type gears seizing on their pins. We have not yet referred to the concessicaniaires in this country for the new Models; these are Messrs. C. H. and
L. 0. Smith, Canal Street, Nottingham, who are well known for their connection with the rebuilding and sale of many hundreds of F.W.D. vehicles of the previous model. This concern has large workshop and stores accommodation and -will give real service to buyers.
One useful aspect of F.W.D. service is that every buyer has sent to him monthly a Service Bulletin dealing with some important part of the chassis and going fully into its features, treatment, etc.
To continue treating with the many improvements incorporated in the new chassis, another of great importance lies in the foot brake. The diameter of the brake drum has been increased from 10 ins. to 114 ins., and the width doubled; also, the drum is mounted directly on the end of the transmission shaft, thereby doing away with the two roller bearings, the driving sleeve and the driving dog previously employed. This change obviates the need for lubrioution at these points and ensures a serviceable brake, which, incidentally, acts on all four wheels simultaneously, a point which is not always realized in connection with this type of vehicle. The improved unit can, if required, be installed on former chassis.
Chassis built before 1920 did not incorporate the three-point-suspended subframe now employed, but this change also can 'easily be made in older models.
Grease-gun lubrication is now employed throughout, the system being the Dot. It is particularly valuable as' applied to the universal joints, which, being near the ground, are subject to a constant coating of dust and mud. On the old type joint it was necessary to fill four grease cups to lubricate each joint, but in the new it can be lubricated from a single connection. Even the fan has been increased in size and has a large upper pulley so that the speed is decreased hut the amount of air expelled is actually increased. Wide,' single, solid tyres are utilized all round, and there is a stout towing hook with opposed compression springs, at the rear. The track is 4 ft. 8 ins. standard and 5 ft. to special order.
The new F.W.D. is made in four wheelbases, these being 10 ft. 4 ins., 11 ft. 4 ins., 12 ft. 4 ins. and 13 ft. As these figures influence the loading space and other particulars we will add these in their respective order. Length of frame: 16 ft. 8 ins., 17 ft 8 ins., 19 ft.
8 ins. and 20 ft. 8 ins. to 21 ft. 8 ins. Loading space at back of driver's seat : 11 ft., 12 ft., 14 ft. and 15 ft. to 16 ft. Length overall: 17 ft. 11 ins., 18 ft. 11 ins., 20 ft. 11 ins. and 21 ft. 11 ins. to 22 ft. 11 ins. Turning radius on 36-in. by 6-in. solids : 28 ft. 5 ins., 30 ft.
9 ins., 33 ft. 1 in. and 34 ft. 8 ins. Percentage of weight on front axle : 39.3, 41, 41 and 414 to 40. The price of the standard chassis avages £950; the short-wheelbase models will be slightly cheaper and those of long wheelbase a little dearer.