ROAD TRANSPORT AND THE FARMER
7th July 1925
Page 11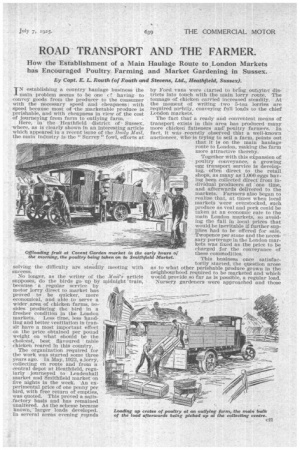 Page 12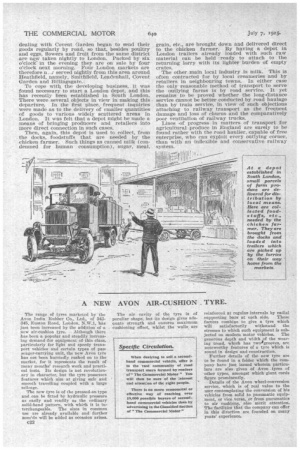 Page 11, 7th July 1925 —
ROAD TRANSPORT AND THE FARMER
Close
TN establishing a country haulage business the -1-main problem seems to be one cf having to convey goods from the producer to the consumer with the necessary speed and cheapness : with speed because most of the marketable produce is perishable, and with cheapness in view of the cost of journeying from farm to outlying farm.
Here, in the• Heathfield district of Sussex, where, as is clearly shown in an interesting article which appeared in a recent issue of the Daily Mail, the main industry is the " Surrey " fowl, efforts at
solving the difficulty are steadily meeting with success.
No longer, as the writer of the Mail's article supposes, do the birds go up by midnight 'train, because • a regular service by motor lorry direct to market has -proved to be quicker, more economical, and able to serve •a wider area of chicken farms, he- sides .producing the bird in a fresher condition in the London markets. Lesstime, less hand
ling and better ventilation in transit have a most important effect on the price obtained per pound weight • on what should be the choicest, best flavoured • table chicken reared In this country.
The .organization required for • the work was started some three years ago. • In May, 1922, a...lorry, collecting en route and from a central depot at Heathfield, regularly journeyed to Leadenhall market and Smithfield market on five nights in the week. An experimental price of one penny per bird, with free return of empties, was quoted. This proved a satisfactory basis and has remained unaltered. As the scheme became known,larger loads developed. In several areas evening ,ropnds by Ford vans were ktarted to bring outiyinq, districts into touch with the main lorry route. The tonnage of chicken carried increased steadily. At the moment of writing two 5-ton lorries are required nip.htly, conveying full loads to the chief London markets.
The fact that a ready and convenient means of transport exists in this area has produced many more chicken fatteners and' poultry farmers. In fact, it was -recently observed that a well-known auctioneer, who is trying to sell a farm, points out , that it is on the main haulage route to London, making the farm snore attractive thereby.
Together With this estpansion of poultry conveyance, a growing egg transport service is developing, • often direct to the retail shop's, as many as 1,000 eggs having been collected direct from individual producers at 'one time, and afterwards delivered to the markets. Farmers also began to realize that, at times when local markets were overstocked, such produce as veal and pork could be taken at an economic rate to the main London markets, so avoiding the fall in local prices that would be inevitable if further supplies had to be offered for sale. Twopence per stone and the necessary porterage in the London markets was fixed as the price to be charged for the conveyance of these commodities.
This buSiness once satisfac torily started, the question arose as to what other perishable produce grown in the neighbourhood required to be marketed and which would ,provide,so far as IS possible, a regular load.
Nursery gardeners were approached and those
dealing with Covent Garden began to genii their goods regularly by road, so that, besides poultry and eggs, flowers and fruit from the same district are no,lv taken nightly to London. Packed by six o'clock in the evening they are on sale by four o'clock next morning. Four London markets are therefore n. ,r served nightly from this area around Heathfield, namely, Smithfield, Leadenhall, Covent Garden and Billingsgate.
To cope with the developing business, it was found necessary to start a London depot, and this has recently been established in South London. There were several objects in view in making this departure. In the first place, frequent inquiries were made as to the delivery of smaller quantities of goods to various widely scattered areas in London. It was felt that a depot might be made a means of bringing producers and retailers into more direct connection in such cases.
Then, again, this depot is used to collect, from the docks, foodstuffs that are needed by the chicken farmer. Such things as canned milk (condemned for human consumption), sugar, meal, grain, etc., are brought down and delivered direct to the chicken farmer. By haying a depot in London trailers already loaded with such raw material can be held ready to attach to the returning lorry with its lighter burden of empty crates.
The other main local industry is milk. This is often contracted for by local creameries and by retailers in neighbouring towns. In either case the only reasonable method of transport to serve the outlying farms is by road service. It yet remains to be proved whether the long-distance service cannot be better conducted by road haulage than by train service, in view of such objections attaching to railway transport as the frequent damage and loss of churns and the comparatively poor ventilation of railway trucks.
Lines of progress in matters of transport for agricultural produce in England are surely to be found rather with the road haulier, capable of free enterprise, who can exploit every outlying corner, than with an inflexible and conservative railway system.