SPEED LIMIT REGULATIONS FOR TRACK-LAYERS.
7th January 1938
Page 7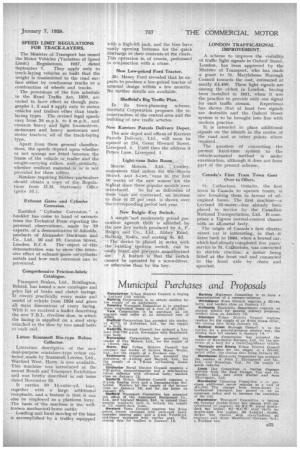 Page 7, 7th January 1938 —
SPEED LIMIT REGULATIONS FOR TRACK-LAYERS.
Close
The Minister of Transport has issued the Motor Vehicles (Variation of Speed Limit) Regulations, 1937, dated September 7. They apply only to track-laying vehicles so built that the weight is tranSmitted to the road surface either by continuous tracks or a combination of wheels and tracks.
The provisions of the first schedule to the Road Traffic Act, 1930, are varied to have effect as though paragraphs 1, 2 and 3 apply only to motor vehicles and trailers other than tracklaying types. The revised legal speeds vary from 20 m.p.h. to 5 mph., and concern heavy and light locomotives. motorcars and heavy motorcars and motor tractors, all of the track-laying type.
Apart from these general classifications, the speeds depend upon whether or not springs are fitted between the frame of the vehicle or,trailer and the weight-carrying rollers, and, similarly, whether resilient material,-is or is not provided for these rollers.
-Readers requiring f4irther particulars should obtain a copy • of the Regulations from H.M. Stationery Office (price ld.), Exhaust Gases and Cylinder Corrosion... .
Entitled " Cylinder Corrosion," a -booklet has come to hand of extracts from the Technical Press reporting the personal observations_ made by -19 experts, of a demonstration of Adcoids, products of Alexander Duckham and Co., Ltd., 16 and 18, Cannon Street, London, E.C.4. The object of-this demonstration was to show the cecrbsive effect of exhaustAgases• can cylinder metals and how such corrosion can be prevented.
Comprehensive Friction-fabric Catalogue.
Transport Brakes, Ltd., Brislington, Bristol, has issued a new catalogue and price list of brake and clutch facings. 'It Covers practically every make and model of vehicle from 1924 and gives all main dimensions of every facing. With it we received a leaflet describing the new T.B.L. rivetless shoe, in which the facing is supplied on a steel strip attached to the shoe by two small bolts at each end.
Latest Scammell Bin-type Refuse Collector.
Literature descriptive of the new dual-purpose container-type refuse collector, made by Scammell Lorries, Ltd., Watford West, Herts, is now available, This machine was introduced at the recent Reads and Transport Exhibition and was briefly described' in our -issue dated November 19.
It carries 10 14-cuhic-yd. bins, together with a large additional receptacle, and a feature is that it can also be employed as a -platform lorry. The basis of the machine is the wellknown mechanical-horse outfit.
.. Loading and local moving of the bins is accomplished by a trolley equipped with a high-lift jack, and the bins have easily opening bottoms for the quick discharge of their contents at the chute.. This operation is, of course, performed in conjunction with a crane.
New Low-priced Ford Tractor.
Mr. Henry Ford revealed that he expects to produce a low-priced tractor of unusual design within a few months. No further details are available.
Sheffield's Big Traffic Plan.
In its town-planning scheme, Sheffield Corporation proposes the reconstruction of the central area and the building of new traffic arteries.
New Karriers Parcels Delivery Depot.
The new depot and offices of Harriers Parcels Delivery, Ltd., will soon be opened at 254, Great Howard Street. Liverpool, 5. Until then the address is Peters Lane, Liverpool, 1.
Light-vans Sales Boom, Morris Motors, Ltd., Cowley. announces that orders for the 'Morris 10-cwt. and 5-cwt. 'vans in the first 10 weeks of the neW season are the highest since these popular models were
introduced. So .fardeliveries of these 'vans are coneerned, an increase to date of 27, per cent. is shown over the corresponding period last year.
New Bulgin ,Key Switch.
A simple-and moderately priced pre-caution against theft is affOrdedby the new key switch produced by A, F. .1-301gin " and Co., Ltd., Abbey Road. Baf-Ififig, -Essex, and costing 3s. 6d.
The' device is placed in series with the existing "ignition switch, Can be easily fitted and prevents unauthorized
Use. A feature is that the. iwitch cannot be operated by a screwdriver, or otherwise than by the key.