The Cost of Lubrication
7th January 1938
Page 13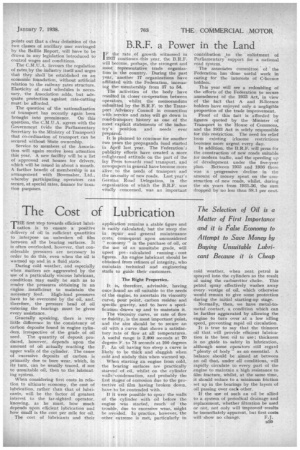 Page 13, 7th January 1938 —
The Cost of Lubrication
Close
The Selection of Oil is a Matter of First Importance and it is False Economy to Attempt to Save Money by Buying Unsuitable Lubricant Because it is Cheap
'TILE Efirst step towards efficient lubri cation. cation is to ensure a positive delivery of oil in sufficient quantities to interpose an unbroken oil film between all the bearing surfaces. It is often overlooked, however, that considerable pressures are necessary in order to do this, even when the oil is warmed up and in a fluid state.
During cold weather, and especially when matters are aggravated by the use of a particularly viscous lubricant, conditions may easily be such as to render the pressures obtaining in an engine insufficient to maintain the necessary feed. High-load pressures have to be overcome by the oil, and, therefore, the pressure bead of oil entering the bearings must be given every assistance.
Generally speaking, there is very little difference in the consistency of carbon deposits found in engine cylinders, irrespective of the grade of oil used. The quantity of deposit produced, however, depends upon the amount of oil actually reaching the upper walls of the cylinder. The cause of excessive deposits of carbon is primarily due to bore wear, which, in its turn, can be usually traced, if not to unsuitable oil, then to the lubrica.t ing system.
When considering first costs in relation to ultimate economy, the cost of lubrication, rather than that of lubricants, will be the factor of greatest interest to the far-sighted operator, knowing, as he must, how much depends updn efficient lubrication and how small is the cost per mile for oil.
The cost of lubricants and their application remains a stable figure and is easily calculated, but the steep rise in repair and general maintenance costs, consequent upon unconsidered " economy" in the purchase of oil, or the use of an unsuitabe grade, will upset pre calculated running cost figures. An engine lubricant should be obtained from refiners of integrity, who maintain technical and engineering staffs to guide their customers.
The Right Properties.
It is, therefore, advisable, having once found an oil suitable to the needs of the engine, to ascertain its viscosity curve, pour point, carbon residue and specific gravity, and to have a specification drawn up and to maintain it.
The viscosity curve, or rate of flow or fluidity, is the most important point, and the aim should be to secure an oil with a curve that shows a satisfactory rate of flow at all temperatures. A useful range is 2,400 seconds at 70 degrees F. to 75 seconds at 200 degrees F. An oil having too steep a curve is likely to be thick and sluggish when cold and unduly thin when Warmed up.
When starting an engine from cold, the bearing surfaces are practically starved of oil, whilst on the cylinder walls-condensation, and probably the first stages of corrosion due to the protective oil film having broken down, have to be contended with.
If it were possible to spray the walls of the cylinder with oil before the engine was started, much of the trouble, due to excessive wear, might be avoided. In practice, however, the other extreme is met, particularly in cold weather, when neat petrol is sprayed into the cylinders as the result of using the carburetter choke. This petrol spray effectively washes away every . vestige of oil, which otherwise would remain to give some protection during the initial starting-up stage.
Normally, then, we have metal-tometal contact, a condition which can be further aggravated by allowing the engine to turn over at a low idling speed, preventing rapid oil circulation.
It is true to say that the thinnest oil that will provide efficient lubrication is the best oil to use ; thickness is no ,gtide to safety in lubrication, although some operators still regard "plenty of body" as an essential. A balance should be aimed at between an oil that, under all conditions, will rapidly circulate to every part of the .engine to maintain a high resistance to film fracture, whilst, at the same time, it should reduce to a minimum friction set up in the bearings by the layers of oil passing over each other.
If the use of such an oil be allied to a system of periodical drainage and replacement, whether filtration be used or riot, not only will improved results be immediately apparent, but first costs will show no change. F.J.