DAF CF85 8X4 EU RO-5 TIPPER
7th February 2008
Page 37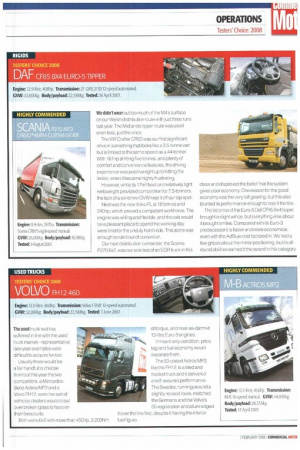 Page 37, 7th February 2008 —
DAF CF85 8X4 EU RO-5 TIPPER
Close
We didn't wear out too much of the M4's surface on our Welsh distribution route with just three runs last year. The Midlands tipper route was used even less, just the once.
The VW Crafter CR50 was our first significant drive in something that looks like a 3.5-tonne van but is limited to the same speed as a 44-tonner. With 161hp shifting five tonnes, and plenty of comfort and convenience features, the driving experience was positive right up to hitting the limiter, when it became highly frustrating.
However, while its 17m3 boot and relatively light kerbweight provided competition for 7.5-tonners, the lack of a six-tonne GVW kept it off our top spot.
Next was the new Volvo FL at 18 tonnes and 240hp, which proved a competent workhorse. The engine was willing and flexible, and the cab would be a pleasant place to spend the working day were it not for the unduly harsh ride. This alone was enough to rule it out of contention.
Our next distribution contender, the Scania P270 6x2, was our sole test of an EGR truck in this class and disproved the belief that the system gives poor economy. One reason for the good economy was the very tall gearing, but this also blunted its performance enough to lose it the title.
The list price of the Euro-5 Daf CF85 8x4 tipper brought a slight wince, but everything else about it brought smiles. Compared with its Euro-3 predecessor it is faster and more economical, even with the Ad Blue cost factored in. We had a few gripes about the mirror positioning, but its allround abilities earned it the award in this category.