TWO TIERS
7th February 2008
Page 27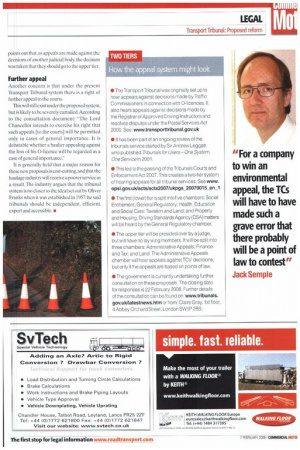 Page 27, 7th February 2008 —
TWO TIERS
Close
How the appeal system might look
• The Transport Tribunal was originally set up to hear appeals aganst decisions made by Traffic Commissioners in connection with 0-licences. It also hears appeals against decisions made by the Registrar of Approved Driving Instructors and resolves disputes under the Postal Services Act 2000. See: www.transporttribunal.gov.uk • It has been part of an ongoing review of the tribunals service started by Sir Andrew Leggett who published Tribunals for Users One System, One Service in 2001.
• This led to the passing of the Tribunals Courts and Enforcement Act 2007. This creates a two-tier system of hearing appeals for all tribunal services. See www. opsi.gov.uk/acts/acts2007/ukpga_20070015_en_l • The first (lower) tier is split into five chambers: Social Entitlement; General Regulatory; Health, Education and Social Care; Taxation and Land; and Property and Housing. Driving Standards Agency (DSA) matters will be heard by the General Regulatory chamber.
• The upper tier will be presided over by a judge, but will have no lay wing members. It will be split into three chambers: Administrative Appeals; Finance and Tax; and Land, The Administrative Appeals chamber will hear appeals against TCs' decisions, but only if the appeals are based on points of law.
• The government is currently undertaking further consultation on these proposals. The closing date for responses is 22 February 2008. Further details of the consultation can be found on: www.tribunals. gov.uk/latestnews.htm or from: Claire Gray, 1st floor, 4 Abbey Orchard Street, London SW1P 2BS.