Love it or hate it, the Transport Tribunal is run
7th February 2008
Page 26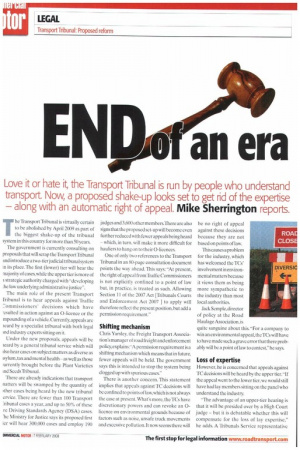 Page 27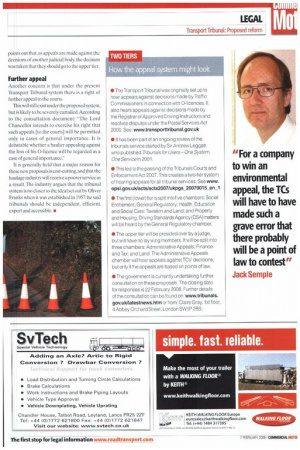 Page 26, 7th February 2008 —
Love it or hate it, the Transport Tribunal is run
Close
by people who understand transport Now, a proposed shake-up looks set to get rid of the expertise — along with an automatic right of appeal. Mike Sherrington reports.
The Transport Tribunal is virtually certain to be abolished by April 2009 as part of the biggest shake-up of the tribunal system in this country for more than 50 years.
The government is currently consulting on proposals that will scrap the Transport Tribunal and introduce a two-tier judicial tribunal system in its place. The first (lower) tier will hear the majority of cases, while the upper tier is more of a strategic authority charged with "developing :he law underlying administrative justice".
The main role of the present Transport fribunal is to hear appeals against Traffic Thmmissioners decisions which have -esulted in action against an 0-licence or the mpounding of a vehicle. Currently, appeals are ward by a specialist tribunal with both legal 'lid industry experts sitting on it.
Under the new proposals, appeals will be ward by a general tribunal service which will ilso hear cases on subject matters as diverse as isylum, tax and mental health — as well as those !urrently brought before the Plant Varieties Ind Seeds Tribunal.
There are already indications that transport natters will be swamped by the quantity of ither cases being heard by the new tribunal ervice. There arc fewer than 100 Transport Sribunal cases a year, and up to 50% of these re Driving Standards Agency (DSA) cases. lie Ministry for Justice says its proposed first ier will hear 300.000 cases and employ 190 judges and 3,600 other members.There are also signs that the proposed set-up will become even further reduced with fewer appeals being heard — which, in turn, will make it more difficult for hauliers to hang on to their 0-licences.
One of only two references to the Transport Tribunal in an 80-page consultation document points the way ahead. This says: "At present, the right of appeal fromTraffic Commissioners is not explicitly confined to a point of law but, in practice, is treated as such. Allowing Section 11 of the 2007 Act [Tribunals Courts and Enforcement Act 2007 I to apply will therefore reflect the present position, but add a permission requirement."
Shifting mechanism Chris Yarsley, the Freight Transport Association's manager of road freight and enforcement policy, explains: "A permission requirement is a shifting mechanism which means that in future, fewer appeals will be held. The government says this is intended to stop the system being clogged up with spurious cases."
There is another concern. This statement implies that appeals against TC decisions will be confined to points oflaw,which is not always the case at present. What's more, the TCs have discretionary powers and can revoke an 0licence on environmental grounds because of factors such as noise, unsafe truck movements and excessive pollution. It now seems there will he no right of appeal against these decisions because they are not based on points of law.
This causes a problem for the industry, which has welcomed the TCs' involvement in environmental matters because it views them as being more sympathetic to the industry than most local authorities.
Jack Semple, director of policy at the Road Haulage Association, is quite sanguine about this. "For a company to win an environmental appeal, the TCs will have to have made such a grave error that there probably will he a point of law to contest," he says.
Loss of expertise However, he is concerned that appeals against TC decisions will be heard by the upper tier."If the appeal went to the lower tier, we would still have had lay members sitting on the panel who understand the industry.
"The advantage of an upper-tier hearing is that it will be presided over by a High Court judge — but it is debatable whether this will compensate for the loss of lay expertise," he adds. A Tribunals Service representative points out that, as appeals are made against the decisions of another judicial body, the decision was taken that they should go to the upper tier.
Further appeal
Another concern is that under the present Transport Tribunal system there is a right of further appeal to the courts.
This will still exist under the proposed system, but is likely to be severely curtailed.According to the consultation document: "The Lord Chancellor intends to exercise his right that such appeals Ro the courts] will be permitted only in cases of general importance. It is debatable whether a haulier appealing against the loss of his 0-licence will be regarded as a case of general importance."
It is generally held that a major reason for these new proposals is cost-cutting, and that the haulage industry will receive a poorer service as a result. The industry argues that the tribunal system is no closer to the ideal set out by Oliver Franks when it was established in 1957: he said tribunals should be independent, efficient, expert and accessible. •