Ready or not LEZ is here
7th February 2008
Page 20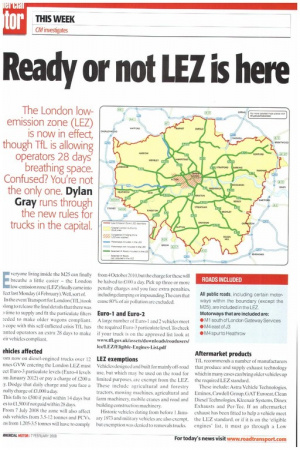 Page 21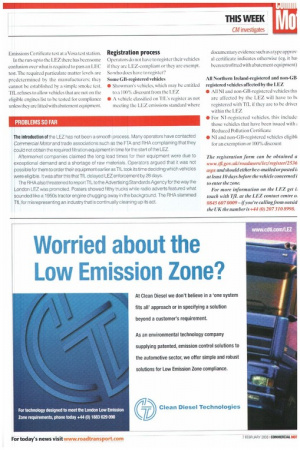 Page 20, 7th February 2008 —
Ready or not LEZ is here
Close
The London low emission zone (LEZ) is now in effect, though TfL is allowing operators 28 days' breathing space.
Confused? You're not the only one. Dylan
Gray runs through
the new rules for trucks in the capital.
Evcryone living inside the M25 can finally breathe a little easier — the London low-emission zone (LEZ) finally came into Tect last Monday (4 February).Well, sort of.
In the event Transport for London (TfL) took )long to release the final details that there was ) time to supply and fit the particulate filters .eded to make older wagons compliant. ) cope with this self-inflicted crisis TfL has 'anted operators an extra 28 days to make eir vehicles compliant.
Aides affected
.om now on diesel-engined trucks over 12 nnes GVW entering the London LEZ must eel Euro-3 particulate levels (Euro-4 levels )m January 2012) or pay a charge of i200 a ty. Dodge that daily charge and you face a ,nalty charge off 1,000a day.
This falls to £500 if paid within 14 days but es to i1,500 if not paid within 28 days.
From 7 July 2008 the zone will also affect ods vehicles from 3.5-12 tonnes and PCVs. .ns from 1.205-3.5 tonnes will have to comply from 4 October 2010, but the charge for these will be halved to £100 a day. Pick up three or more penalty charges and you face extra penalties, including clamping or impounding.The cars that cause 80% of air pollution are excluded.
Euro-1 and Euro-2
A large number of Euro-1 and 2 vehicles meet the required Euro-3 particulate level To check if your truck is on the approved list look at www.tfl.gov.uk/assets/downloads/roadusers/ lez/LEZ/EliOble-Engines-List.pdf
LEZ exemptions
Vehicles designed and built for mainly off-road use. but which may be used on the road for limited purposes. are exempt from the LEZ. These include agricultural and forestry tractors, mowing machines, agricultural and farm machinery, mobile cranes and road and building construction machinery.
Historic vehicles dating from before 1 January 1973 and military vehicles are also exempt, but exemption was denied to removals trucks.
Aftermarket products
TfL recommends a number of manufacturers that produce and supply exhaust technology which in many cases can bring older vehicles up the required LEZ standard.
These include: Astra Vehicle Technologies, Eminox, eawdell Group, GAT Eurocat, Clean Diesel Technologies, Kleenair Systems, Dinex Exhausts and Per-Tee. If an a ftermarket exhaust has been fitted to help a vehicle meet the LEZ standard, or if it is on the 'eligible engines' list, it must go through a Low Emissions Certificate test at a Vosa test station.
In the run-up to the LEZ there has been some confusion over what is required to pass an LEC test. The required particulate matter levels are predetermined by the manufacturers; they cannot be established by a simple smoke test. '11L refuses to allow vehicles that are not on the eligible engines list to be tested for compliance unless they are fitted with abatement equipment.
Registration process
Operators do not have to register their vehicles if they are LEZ-compliant or they are exempt. So who does have to register? Some GB-registered vehicles • Showman's vehicles, which may be entitled to a l00% discount from the LEZ • A vehicle classified on TfUs register as not meeting the LEZ emissions standard where documentary evidence such as a type approval certificate indicates otherwise (eg, it ha5 been retrofitted with abatement equipment) AB Northern Ireland-registered and non-GB, registered vehicles affected by the LEZ • All NI and non-C_IR-registered vehicles tha are affected by the LEZ will have to bt registered with TfL if they are to he driver within the LEZ • For NI-registered vehicles, this include: those vehicles that have been issued with Reduced Pollution Certificate • NI and non-GB-registered vehicles eligibli for an exemption or 100% discount The registration form can be obtained a www. ffl.gov.uk/ roadusers/lez/ register/2536 aspx and should either be e-mailed orpostedii at least 10 days before the vehicle concerned i to enter the zone.
For more information on the LEZ get touch with TX at the LEZ contact centre o, 0845 607 0009 — if you're callingfrom outsid the UK the number is +44 (0)207310 8998.