X-ray marks the spot
7th February 2008
Page 18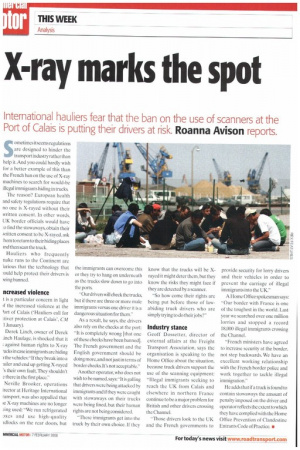 Page 18, 7th February 2008 —
X-ray marks the spot
Close
Keywords :
Transport
,
Crimes
,
Human Migration
,
Illegal Immigration
,
Trucks
,
Technology
,
Truck Driver
,
Truck
,
Calais
,
X-ray
,
Social Issues
International hauliers fear that the ban on the use of scanners at the Port of Calais is putting their drivers at risk. Roanna Avison reports.
Sometimes it seems regulations are designed to hinder the transport industry rather than help it. And you could hardly wish for a better example of this than the French ban on the use of X-ray machines to search for would-be illegal immigrants hiding in trucks The reason? European health and safety regulations require that no one is X-rayed without their written consent. In other words, UK border officials would have :o find the stowaways, obtain their ,vritten consent to be X-rayed, ask hem to return to their hiding places Ind then scan the truck.
Hauliers who frequently nake runs to the Continent are 'urious that the technology that :ould help protect their drivers is )eing banned.
ncreased violence
t is a particular concern in light If the increased violence at the port of Calais (Hauliers call for !river protection at Calais', CM 1 January).
Derek Linch, owner of Derek inch Haulage. is shocked that it ; against human rights to X-ray licks in case immigrants are hiding the vehieles:"If they break into a .ailer and end up getting X-rayed 's their own fault. They shouldn't e there in the first place."
Neville Brooker, operations irector at Heritage International ransport. was also appalled that le X-ray machines are no longer 2ing used: "We run refrigerated axes and use high-quality idlocks on the rear doors, but the immigrants can overcome this or they try to hang on underneath as the trucks slow down to go into the ports -Our drivers will check the trucks, but if there are three or more male immigrants versus one driver it is a dangerous situation for them."
As a result, he says, the drivers also rely on the checks at the port: "It is completely wrong [that one of these checks have been banned]. The French government and the English government should be doing more, and not just in terms of border checks. It's not acceptable."
Another operator, who does not wish to be named,says:"It is galling that drivers were being attacked by immigrants and if they were caught with stowaways on their trucks were being fined, but their human rights are not being considered.
"These immigrants get into the truck by their own choice. If they know that the trucks will be Xrayed it might deter them but they know the risks they might face if they are detected by a scanner.
-So how come their rights are being put before those of lawabiding truck drivers who are simply trying to do their jobs?"
Industry stance
Geoff Dossetter, director of external affairs at the Freight Transport Association, says the organisation is speaking to the Home Office about the situation, because truck drivers support the use of the scanning equipment: "Illegal immigrants seeking to reach the UK from Calais and elsewhere in northern France continue to be a major problem for British and other drivers crossing the Channel.
"Those drivers look to the UK and the French governments to provide security for lorry drivers and their vehicles in order to prevent the carriage of illegal immigrants into the UK."
A Home Office spokesman says: "Our border with France is one of the toughest in the world. Last year we searched over one million lorries and stopped a record 18,000 illegal immigrants crossing the Channel.
"French ministers have agreed to increase security at the border, not step backwards. We have an excellent working relationship with the French border police and work together to tackle illegal immigration."
He adds that if a truck is found to contain stowaways the amount of penalty imposed on the driver and operator reflects the extent to which they have complied with the Home Office Prevention of Clandestine Entrants Code of Practice. si