ONE HEARS
7th February 1918
Page 3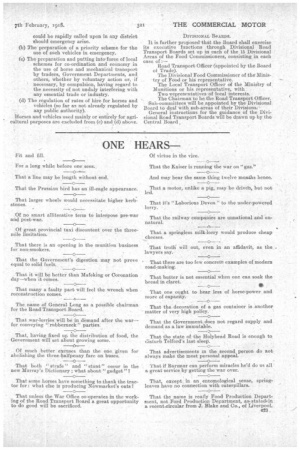 Page 3, 7th February 1918 —
ONE HEARS
Close
Fit and fill.
For a long while before one sees.
That a line may be length witlaout end.
That the Prussian bird has an ill-eagle appearance.
That larger wheels would necessitate higher kerbstones.
Of no smart alliterative term to interpose pre-war and post-war.
Of great provincial taxi discontent over the threemile limitation.
That there is an opening in the munition business for non-smokers.
That the Government's digestion equal to solid fuels. may not prove That it will be better than INfafeking or Coronation day—wheu it eoines.
That many a faulty Part will feel the wrench when reconstruction comes. • • The name of General Long as a possible chairman for the Road Transport.Board.
That war-lorries will be in demand after the warfor conveying "rubberneck" Parties; ' That, having fixed up -hie distribution of food, the GOvernment will set about growing some.
Of much .better excuses than the one given for abolishing the three-halfpenny fare on buses.
-That both " strafe " and "stunt" occur in the new hiurray's Dictionary ; what about " gadget "I That some horses have something to thank the tractor for : what else is producing Newmarket's oats ?
• That unless" the War Office co-operates in the working of the Road Transport Board a great opportunity to do good will be sacrificed. Of virtue in the vice.
That the Kaiser is running the war on "gas."
And may hear the same thing twelve raonths hence. That .a motor, unlike a pig, may be driven, but not That it's "Laborious Devon" to the under-powered lorry. • , That the railway companies are mutational and unnatural.
That a springles.s milk-lorry would produce cheap cheeses.
That truth* will out, even in an affidavit, as the lawyers say.
" That there are too few concrete examples of modern road-making.
That one ought to hear, less of horse-power and more of capacityy • That the.. decoration, of a gas container is another matter of very high policy.
That the Government. does not regard supply and demand as a law immutable.
That the state of the ablyhead Road is enough to disturb Telford's last. slee.P.
. That advertisements in the second person do not always make the most personal a,ppeal.
0 • That if Banmar can perform miracles he'd do us all' a great service by getting the war over.
That, except, in an entomological sense, springleaves have no 'connection with caterpillars.
That the name is really Food Production Depart-, 'tient, not Ford Production Department, asstatethin a recent.circular from J. Blake and Co., of Liverpool.,