FERRIES & CONTINENTAL
7th August 1970
Page 62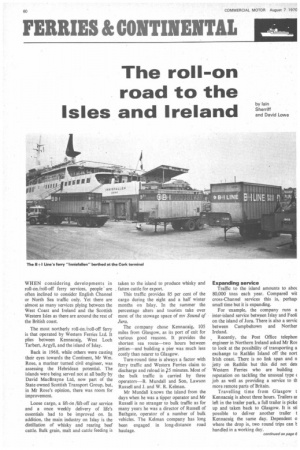 Page 65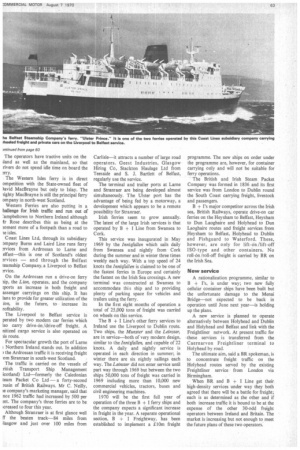 Page 62, 7th August 1970 —
FERRIES & CONTINENTAL
Close
Keywords :
Western Ferries
,
Irish Ferries
,
Ferry
,
Roll-on/roll-off
,
West Loch Tarbert, Argyll
,
Islay
,
Holyhead
,
High-speed Craft
,
Ships Built In Finland
,
Transport In The United Kingdom
,
Caledonian Macbrayne
The roll-on road to the Isles and Ireland
WHEN considering developments in roll-on/roll-off ferry services, people ' are often inclined to consider English Channel or North Sea traffic only. Yet there are almost as many services plying between the West Coast and Ireland and the Scottish Western Isles as there are around the rest of the British coast.
The most northerly roll-on/roll-off ferry is that operated by Western Ferries Ltd. It plies between Kennacaig, West Loch Tarbert, Argyll, and the island of Islay.
Back in 1968, while others were casting their eyes towards the Continent, Mr Wm. Rose, a mariner turned civil engineer, was assessing the Hebridean potential. The islands were being served not at all badly by David MacBrayne Ltd, now part of the State-owned Scottish Transport Group, but, in Mr Rose's opinion, there was room for improvement.
Loose cargo, a lift-On /lift-off car service and a once weekly delivery of life's essentials had to be improved on. In addition, the main industry on Islay is the distillation of whisky and rearing beef cattle. Bulk grain, malt and cattle feeding is taken to the island to produce whisky and fatten cattle for export.
This traffic provides 85 per cent of the cargo during the eight and a half winter months on Islay. In the summer the percentage alters and tourists take over most of the stowage space of my Sound of Jura.
The company chose Kennacaig, 105 miles from Glasgow, as its port of exit for various good reasons. It provides the shortest sea route—two hours between jetties—and building a pier was much less costly than nearer to Glasgow.
Turn-round time is always a factor with ferry traffic and Western Ferries claim to discharge and reload in 5 minutes. Most of the bulk traffic is carried by three operators—B. Mundall and Son, Lawson Russell and J. and W. R. Kelman.
Mr Mundall knows the island from the days when he was a tipper operator and Mr Russell is no stranger to bulk traffic as for many years he was a director of Russell of Bathgate, operator of a number of bulk vehicles. The Kelman company has long been engaged in long-distance road haulage. Expanding service Traffic to the island amounts to abot 80,000 tons each year. Compared wit cross-Channel services this is, perhapl small time but it is expanding.
For .example, the company runs a inter-island service between Islay and Feoli on the island of Jura. There is also a servic between Campbeltown and Norther Ireland.
, Recently, the Post Office telephon engineer in Northern Ireland asked Mr Ros to look at the possibility of transporting a exchange to Rathlin Island off the nort Irish coast. There is no link span and n jetty on Rathlin but this did not dett Western Ferries who are building reputation on tackling the unusual type job as well as providing a service to di more remote parts of Britain.
Travelling time from Glasgow t Kennacaig is about three hours. Trailers at left in the trailer park, a full trailer is picke up and taken back to Glasgow. It is sti possible to deliver another trailer t Kennacaig the same day. Dependent o where the drop is, two round trips can t handled in a working day. The operators have tractive units on the ;land as well as the mainland, so that rivers do not spend idle time on board the 3rry.
The Western Isles ferry is in direct ompetition with the State-owned fleet of /avid MacBrayne but only to Islay. The tighty MacBrayne is still the principal ferry ompany in north-west Scotland.
Western Ferries are also putting in a hallenge for Irish traffic and run out of :ampbeltown to Northern Ireland although ir Rose describes this as being at the loment more of a footpath than a road to le isles.
Coast Lines Ltd, through its subsidiary unpany Burns and Laird Line runs ferry ;rvices from Ardrossan to Larne and elfast—this is one of Scotland's oldest !rvices — and through the Belfast teamship Company, a Liverpool to Belfast ;mice.
On the Ardrossan run a drive-on ferry ;lip, the Lion, operates, and the company :ports an increase in both freight and assenger carryings on this ship. It has lans to provide for greater utilization of the ion, in the future, to increase its rofitability.
The Liverpool to Belfast service is perated by two modern car ferries which Is° carry drive-on /drive-off freight. A nitized cargo service is also operated on us route.
For spectacular growth the port of Lame Northern Ireland. stands out. In addition the Ardrossan traffic it is receiving freight om Stranraer in south-west Scotland.
The traffic is carried on the vessels of ritish Transport Ship Management icotland) Ltd—formerly the Caledonian team Packet Co Ltd a forty-second 3usin of British Railways. Mr C. Neilly, ie company's marketing manager, said that nce 1962 traffic had increased by 500 per silt. The company's three ferries are to be creased to four this year.
Although Stranraer is at first glance well ET the beaten track-84 miles from rlasgow and just over 100 miles from Carlisle—it attracts a number of large road operators. Geest Industries, Glasgow Hiring Co, Stackton Haulage Ltd from Teesside and S. J. Bartlett of Belfast, regularly use the service.
The terminal and trailer ports at Larne and Stranraer are being developed almost simultaneously. The Ulster port has the advantage of being fed by a motorway, a development which appears to be a remote possibility for Stranraer.
Irish ferries seem to grow annually. The latest of the large Irish services is that operated by B + I Line from Swansea to Cork.
This service was inaugurated in May 1969 by the InniVallen which sails daily from Swansea and nightly from Cork during the summer and in winter three times weekly each way. With a top speed of 24 knots the InniVallen is claimed to be one of the fastest ferries in Europe and certainly the fastest on the Irish Sea crossings. A new terminal was constructed at Swansea to accommodate this ship and to providing plenty of parking space for vehicles and trailers using the ferry.
In the first eight months of operation a total of 25,000 tons of freight was carried on wheels on this service.
The B + I Line's other ferry services to Ireland use the Liverpool to Dublin route. Two ships, the Munster and the Leinster, are in service—both of very modern design, similar to the InniVittlen, and capable of 22 knots. A daily and nightly service is operated in each direction in summer; in winter there are six nightly sailings each way. The Leinster did not enter service until part way through 1969 but between the two ships 50,000 tons of freight was carried in 1969 including more than 10,000 new commercial vehicles, tractors, buses and civil engineering machines.
1970 will be the first full year of operation of the three B + I ferry ships and the company expects a significant increase in freight in the year. A separate operational section, B + I Freightway, has been established to implement a £10m freight programme. The new ships on order under the programme are, however, for container carrying only and will not be suitable for ferry operations.
The British and Irish Steam Packet Company was formed in 1836 and its first service was from London to Dublin round the South Coast carrying freight, livestock and passengers.
B + I's major competitor across the Irish sea, British Railways, operate drive-on car ferries on the Heysham to Belfast, Heysham to Dun Laoghaire and Holyhead to Dun Laoghaire routes and freight services from Heysham to Belfast, Holyhead to Dublin and Fishguard to Waterford. These, however, are only for lift-on/lift-off ISO-type and other containers. No roll-On/roll-off freight is carried by BR on the Irish Sea.
New service
A rationalization programme, similar to B + l's, is under way; two new fully cellular container ships have been built but the unfortunate damage to the Menai Bridge—not expected to be back in operation until June next year—is holding up the plans.
A new service is planned to operate alternatively between Holyhead and Dublin and Holyhead and Belfast and link with the Freightliner network. At present traffic for uthese services is transferred from the Caernarvon Freightliner terminal to Holyhead by road.
The ultimate aim, said a BR spokeman, is to concentrate freight traffic on the Holyhead routes served by the existing Freightliner service from London via Birmingham.
When BR and B I Line get their high-density services under way they both agreed that there will be a battle for freight; each is as determined as the other and if both increase traffic it is bound to be at the expense of the other 30-odd freight operators between Ireland and Britain. The market is increasing but not enough to meet the future plans of these two operators.
Tags
Locations
:
Dublin
,
Belfast
,
Holyhead
,
Heysham
,
Fishguard
,
Glasgow
,
Lame Northern
,
London
,
Birmingham
,
Liverpool
,
Kelman
,
Campbeltown