meet
7th August 1970
Page 48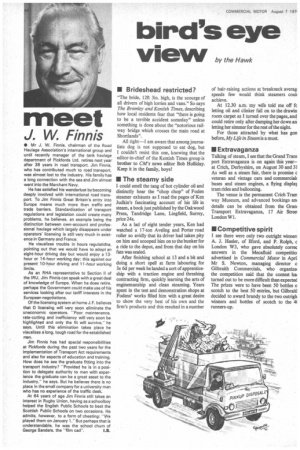 Page 48, 7th August 1970 —
meet
Close
J. W. Finnis
• Mr J. W. Finnis, chairman of the Road Haulage Association's international group and until recently manager of the tank haulage department of Pickfords Ltd, retires next year after 38 years in road transport. Jim Finnis, who has contributed much to road transport, was almost lost to the industry. His family has a long connection with the sea and Jim almost went into the Merchant Navy, He has satisfied his wanderlust by becoming deeply involved with international road transport. To Jim Finnis Great Britain's entry into Europe means much more than traffic and trade barriers. Standardization of transport regulations and legislation could create many problems, he believes, an example being the distinction between own-account and professional haulage which largely disappears under operators' licensing is still very much in existence in Germany and France.
He visualizes trouble in hours regulatidns, pointing out that we would have to adopt an eight-hour driving day but would enjoy a 13hour or 14-hour working day: this against our present 10-hour driving and 11-hour working limits.
As an RHA representative to Section II of the I RU, Jim Finnis can speak with a great deal of knowledge of Europe. When he does retire, perhaps the Government could make use of his services looking after our tariff interests in the European negotiations.
Of the licensing system at home J. F. believes that 0 licensing will very soon eliminate the uneconomic operators. -Poor maintenance, rate-cutting and inefficiency will very soon be highlighted and only the fit will survive," he says. Until this elimination takes place he visualizes a long, tough road for the established rnen.
Jim Finnis has had special responsibilities at Pickfords during the past two years for the implementation of Transport Act requirements and also for aspects of education and training. How does he see the graduate fitting into the transport industry? "Provided he is in a position to delegate authority to men with experience the graduate can be a great asset to the industry,he says. But he believes there is no place in the small company for a university man who has no experience of the traffic desk.
At 64 years of age Jim Finnis still takes an interest in Rugby Union, having as a schoolboy helped the English Public Schools to beat the Scottish Public Schools on two occasions, He admits, however, to a form of cheating: "We played them on January 1." But perhaps that is understandable, he was the school chum of George Sanders, the "film cad". I.S.