bird's eye
7th August 1970
Page 48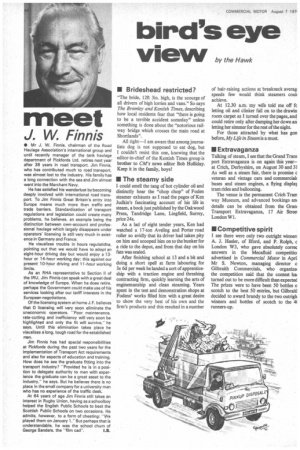 Page 48, 7th August 1970 —
bird's eye
Close
Keywords :
Tandridge
,
Light Rail
,
Steam Engines
,
Crich
,
Edwin Foden, Sons & Co.
,
Aveling And Porter
,
Tram
,
Traction Engine
,
Lingfield, Surrey
viewby the Hawk • Brideshead restricted?
"The bride, 1211 3in. high, is the scourge of all drivers of high lorries and vans." So says The Bromley and Kentish Times, describing how local residents fear that "there is going to be a terrible accident someday" unless something is done about the "notorious railway bridge which crosses the main road at Shortlands".
All right—I am aware that among journalists dog is not supposed to eat dog, but I couldn't resist this one, knowing that the editor-in-chief of the Kentish Times group is brother to CM's news editor Bob Holliday. Keep it in the family, boys!
• The steamy side
I could smell the tang of hot cylinder oil and distinctly hear the "chop chop" of Foden steamer exhausts as I read the pages of Ken Judlcin's fascinating account of his life in steam, a book just published by the Oakwood Press, Tandridge Lane, Lingfield, Surrey, price 24s.
As a lad of eight tender years, Ken had watched a 17-ton Aveling and Porter road roller so avidly that its driver had taken pity on him and scooped him on to the bunker for a ride to the depot, and from that day on his fate was sealed.
After finishing school at 13 and a bit and doing a short spell at farm labouring for 3s 6d per week he landed a sort of apprenticeship with a traction engine and threshing contracting firm, quickly learning the arts of enginemanship and clean steaming. Years spent in the test and demonstration shops at Fodens' works filled him with a great desire to show the very best of his own and the firm's products and this resulted in a number of hair-raising actions at breakneck averag speeds few would think steamers coull achieve.
At 12.30 a.m. my wife told me off fc letting oil and clinker fall on to the drawin room carpet as I turned over the pages, and could retire only after damping her down an letting her simmer for the rest of the night.
For those attracted by what has gon before, My Life in Steam is a must.
• Extravaganza
Talking of steam, I see that the Grand Tram port Extravaganza is on again this year— at Crich, Derbyshire, on August 30 and 31 As well as a steam fair, there is promise c veteran and vintage cars and commercial: buses and steam engines, a flying disp1a3 tram rides and ballooning.
The venue is the permanent Crich Tram way Museum, and advanced bookings am details can be obtained from the Gran Transport Extravaganza, 17 Air Stree London WI.
• Competitive spirit I see there were only two outright winner! A. J. Hasler, of Ilford, and P. Ralph, c London W3, who gave absolutely correc answers in the Mecafluid competitio advertised in Commercial Motor in Apri Mr S. Newton, managing director c Gilbraith Commercials, who organize, the competition said that the contest hal turned out to be more difficult than expected The prizes were to have been 50 bottles a scotch to the best 50 entries, but Gilbraitl decided to award brandy to the two outrigh winners and bottles of scotch to the 4( runners-up.