Mobile laundry shower trailers for Iran
7th August 1970
Page 44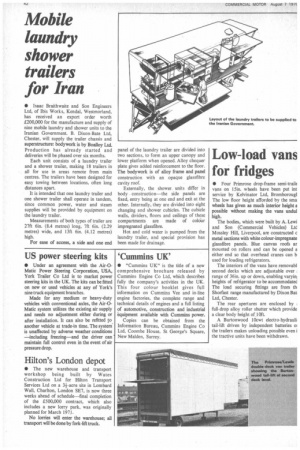 Page 44, 7th August 1970 —
Mobile laundry shower trailers for Iran
Close
• Isaac Braithwaite and Son Engineers Ltd, of Ibis Works, Kendal, Westmorland, has received an export order worth £200,000 for the manufacture and supply of nine mobile laundry and shower units to the Iranian Government. B. Dixon-Bate Ltd, Chester, will supply the trailer chassis and superstructure: bodywork is by Boalloy Ltd. Production has already started and deliveries will be phased over six months.
Each unit consists of a laundry trailer and a shower trailer, making 18 trailers in all for use in areas remote from main centres. The trailers have been designed for easy towing between locations, often long distances apart.
It is intended that one laundry trailer and one shower trailer shall operate in tandem, since common power, water and steam supplies will be provided by equipment on the laundry trailer, Measurements of both types of trailer are 27ft 6in. (8,4 metres) long, 7ft 6in. (2.29 metres) wide, and 13ft 6in. (4.12 metres) high.
For ease of access, a side and one end panel of the laundry trailer are divided into two sections, to form an upper canopy and lower platform when opened. Alloy chequer plate gives added reinforcement to the floor. The bodywork is of alloy frame and panel construction with an opaque glassfibre cavity roof.
Externally, the shower units differ in body . construction—the side panels are fixed, entry being at one end and exit at the other. Internally, they are divided into eight changing and shower cubicles. The cubicle walls, dividers, floors and ceilings of these compartments are made of coldur impregnated glassfibre.
Hot and cold water is pumped from the laundry trailer, and special provision has been made for drainage.