'Thin end of the wedge' for Darlington haulier
7th August 1970
Page 42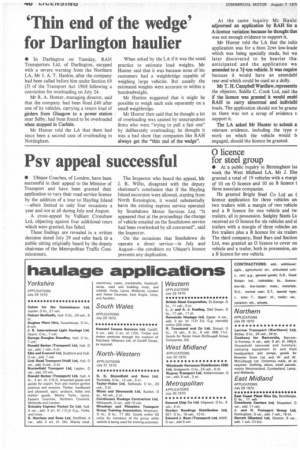 Page 42, 7th August 1970 —
'Thin end of the wedge' for Darlington haulier
Close
• In Darlington on Tuesday, RAH Transporters Ltd, of Darlington, escaped with a severe warning from the Northern LA, Mr J. A. T. Hanlon, after the company had been called before him under Section 69 (3) of the Transport Act 1968 following a conviction for overloading on July 24.
Mr R. A. Hunter, managing director, said that the company had been fined £40 after one of its vehicles, carrying a return load of girders from Glasgow to a power station near Selby, had been found to be overloaded when stopped in Carlisle.
Mr Hunter told the LA that there had since been a second case of overloading in Nottingham. When asked by the LA if it was the usual practice to estimate load weights, Mr Hunter said that it was because none of his customers had a weighbridge capable of weighing large vehicles. But usually the estimated weights were accurate to within a hundredweight.
Mr Hanlon suggested that it might be possible to weigh each axle separately on a small weighbridge.
Mr Hunter then said that he thought a lot of overloading was caused by unscrupulous firms who were "trying to pull a fast one" by deliberately overloading; he thought it was a bad show that companies like RAH always get the "thin end of the wedge". At the same inquiry Mr Hanloi adjourned an application by RAH for a A-licence variation because he thought ther was not enough evidence to support it.
Mr Hunter told the LA that the initia application was for a 6ton 2cwt low-bade which was being specially made, but wa later discovered to be heavier thai anticipated and the application wa amended to a 7+-ton vehicle. It was require because it would have an extendabl rear-end which could be used as a dolly.
Mr T. H. Campbell Wardlaw, representin the objector, Siddle C. Cook Ltd, said tha if the licence was granted it would euabl RAH to carry abnormal and indivisibl loads. The application should not be grant° as there was not a scrap of evidence ti support it.
The LA asked Mr Hunter to submit al relevant evidence, including the type a work on which the vehicle would b engaged, should the licence be granted.