Psv appeal successful
7th August 1970
Page 42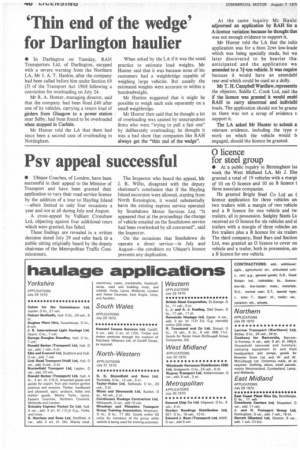 Page 42, 7th August 1970 —
Psv appeal successful
Close
• Ubique Coaches, of London, have been successful in their appeal to the Minister of Transport and have been granted their application to vary their road service licence by the addition of a tour to Hayling Island —albeit limited to only four occasions a year and not at all during July and August.
A cross-appeal by Valliant Cronshaw Ltd, objecting against four additional tours which were granted, has failed.
These findings are revealed in a written decision dated July 29 and refer back to a public sitting originally heard by the deputy chairman of the Metropolitan Traffic Commissioners.
The Inspector who heard the appeal, Mr J. R. Willis, disagreed with the deputy chairman's conclusion that if the Hayling Island excursion were allowed, starting from North Kensington, it would substantially harm the existing express service operated by Southdown Motor Services Ltd. "It appeared that at the proceedings the change of vehicle entailed on the Southdown service had been overlooked by all concerned", said the Inspector.
On the occasions that Southdown do operate a direct service—in July and August—the condition on Ubique's licence prevents any duplication.