Bow Bells re-organization approved
7th August 1970
Page 41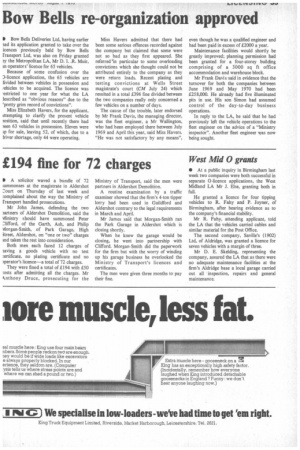 Page 41, 7th August 1970 —
Bow Bells re-organization approved
Close
Bow Bells Deliveries Ltd, having earlier lad its application granted to take over the icences previously held by Bow Bells Transport Ltd, was also on Friday granted )y the Metropolitan LA, Mr D. I. .R. Muir, in operators' licence for 65 vehicles.
Because of some confusion over the )-licence application, the 65 vehicles are livided between vehicles in possession and /chides to be acquired. The licence was .estricted to one year for what the LA lescribed as "obvious reasonsdue to the 'pretty grim record of convictions".
Miss Elizabeth Havers. for the applicant, ittempting to clarify the present vehicle )osition, said that until recently there had nen 63 vehicles in possession. Eleven were ip for sale, leaving 52, of which, due to a lriver shortage. only 44 were operating. Miss Havers admitted that there had been some serious offences recorded against the company but claimed that some were not so bad as they first appeared. She referred 'in particular to some overloading convictions which she thought could not be attributed entirely to the company as they were return loads. Recent plating and testing convictions at Wells Street magistrate's court (CM July 24) which resulted in a total £396 fine divided between the two companies really only concerned a few vehicles on a number of days.
The cause of the trouble, later endorsed by Mr Frank Davis, the managing director, was the fleet engineer, a Mr Wallington, who had been employed there between July 1969 and April this year, said Miss Havers. "He was not satisfactory by any means", even though he was a qualified engineer and had been paid in excess of £2000 a year.
Maintenance facilities would shortly be greatly improved; planning permission had been granted for a four-storey building comprising of a 3000 sq ft office accommodation and warehouse block.
Mr Frank Davis said in evidence that the turnover for both the companies between June 1969 and May 1970 had been £258,000. He already had five illuminated pits in use. His son Simon had assumed control of the day-to-day business operations.
In reply to the LA, he said that he had previously left the vehicle operations to the fleet engineer on the advice of a "Ministry inspector". Another fleet engineer was now being sought.