£194 fine for 72 charges
7th August 1970
Page 41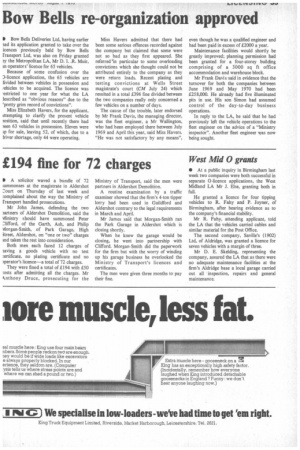 Page 41, 7th August 1970 —
£194 fine for 72 charges
Close
D A solicitor waved a bundle of 72 ;ummonses at the magistrate in Aldershot 2ourt on Thursday of last week and :omplained about the way the Ministry of Transport handled prosecutions.
Mr John James, defending the two )artners of Aldershot Demolition, said the Vlinistry should have summoned Peter 21ifford, of the Garth, Ash, and Philip Vforgan-Smith, of Park Garage, High itreet, Aldershot, on "one or two" charges tnd taken the rest into consideration.
Both men each faced 12 charges of laving a goods vehicle with no test :ertificate. no plating certificate and no verator's licence—a total of 72 charges.
They were fined a total of £194 with £50 :osts after admitting all the charges. Mr knthony Druce. prosecuting for the Ministry of Transport, said the men were partners in Aldershot Demolition.
A routine examination by a traffic examiner showed that the firm's 4-ton tipper lorry had been used in Guildford and Aldershot contrary to the legal requirements in March and April.
Mr James said that Morgan-Smith ran the Park Garage in Aldershot which is closing shortly.
When he knew the garage would be closing, he went into partnership with Clifford. Morgan-Smith did the paperwork for the firm but with the worry of winding up his garage business he overlooked the Ministry of Transport's licences and certificates.
The men were given three months to pay their fine.