Order your 1976 buses now
7th August 1970
Page 40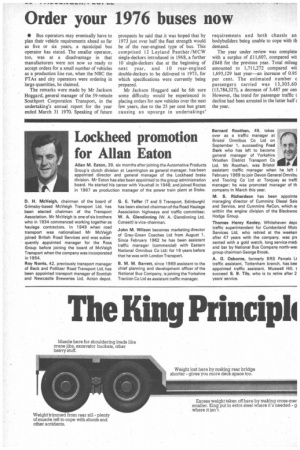 Page 40, 7th August 1970 —
Order your 1976 buses now
Close
• Bus operators may eventually have to plan their vehicle requirements ahead as far as five or six years, a municipal bus operator has stated. The smaller operator, too, was at a disadvantage in that manufacturers were not now so ready to accept orders for a small number of vehicles as a production line run, when the NBC the PTAs and city operators were ordering in large quantities, he claimed.
The remarks were made by Mr Jackson Hoggard, general manager of the 59-vehicle Southport Corporation Transport, in the undertaking's annual report for the year ended March 31 1970. Speaking of future prospects he said that it was hoped that by 1973 just over half the fleet strength would be of the rear-engined type of bus. This comprised 12 Leyland Panther /MCW single-deckers introduced in 1968, a further 10 single-deckers due at the beginning of next year. and 10 rear-engined double-deckers to be delivered in 1973, for which specifications were currently being prepared.
Mr Jackson Hoggard said he felt sure some difficulty would be experienced in placing orders for new vehicles over the next few years, due to the 25 per cent bus grant causing an upsurge in undertakings' requirements and both chassis an bodybuilders being unable to cope with th demand.
The year under review was complete with a surplus of £11,607, compared wit £848 for the previous year. Total rnileag amounted to 1,711,272 compared wit 1,695,129 last year—an increase of 0.95 per cent. The estimated number c passengers carried was 13,303,60 (13,784,327), a decrease of 3.487 per cen However, the trend for passenger traffic t decline had been arrested in the latter half the year.