Lockheed promotion for Allan Eaton
7th August 1970
Page 40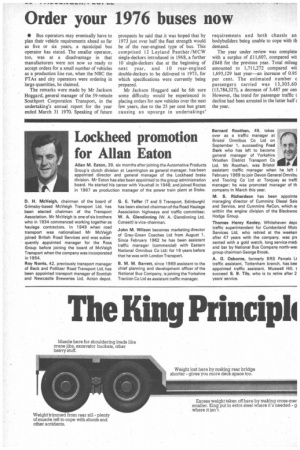 Page 40, 7th August 1970 —
Lockheed promotion for Allan Eaton
Close
Allan M. Eaton, 39, six months after joining the Automotive Products Group's clutch division at Leamington as general manager, has been appointed director and general manager of the Lockheed brake division. Mr Eaton has also been appointed to the group administration board. He started his career with Vauxhall in 1948, and joined Rootes in 1967 as production manager of the power train plant at Stoke.
D. H. McVeigh, chairman of the board of Grimsby-based McVeigh Transport Ltd, has been elected chairman of the Transport Association, Mr McVeigh is one of six brothers who in 1934 commenced working together as haulage contractors, in 1949 when road transport was nationalized Mr McVeigh joined British Road Services and was subsequently appointed manager for the Ross Group before joining the board of McVeigh Transport when the company was incorporated in 1954.
Roy Norris, 42, previously transport manager of Beck and Pollitzer Road Transport Ltd, has been appointed transport manager of Scottish and Newcastle Breweries Ltd, Acton depot. G. E. Telfer IT and S Transport, Edinburgh) has been elected chairman of the Road Haulage Association highways and traffic committee: W. A. Glendinning (W. A. Glendinning Ltd, Consett) is vice-chairman.
John M. Wilson becomes marketing director of Grey-Green Coaches Ltd from August 1. Since February 1962 he has been assistant traffic manager (commercial) with Eastern National Omnibus Co Ltd; for 16 years before that he was with London Transport.
B. M. M. Barrett, since 1969 assistant to the chief planning and development officer of the National Bus Company, is joining the Yorkshire Traction Co Ltd as assistant traffic manager. Bernard Roothan, 49, takes over as a traffic manager at Bristol Omnibus Co Ltd on September 1, succeeding Fred Dark who has left to become general manager of Yorkshire Woollen District Transport Co Ltd, Mr Roothan, was Bristol assistant traffic manager when he left i February 1969 to join Devon General Omnibu and Touring Co Ltd at Torquay as traffi manager; he was promoted manager of th company in March this year.
M. S. Richardson has been appointe managing director of Cummins Diesel Sale and Set-vice. and Cummins ReCon, which Sr within the engine division of the Blackwoo Hodge Group.
Thomas Henry Kenley, Whitehaven depc traffic superintendent for Cumberland Mot( Services Ltd, who retired at the weeken after 47 years with the company, was prE sented with a gold watch, long service mert and bar by National Bus Company north-we: group chairman George Brook, A. G. Osborne, formerly B RS Parcels Lt traffic assistant. Tottenham branch, has bee appointed traffic assistant, IVIuswell Hill, t succeed S. B. Tily, who is to retire after 2 years' service.