No time to waste: 'Urban transport' needs action now
7th August 1970
Page 34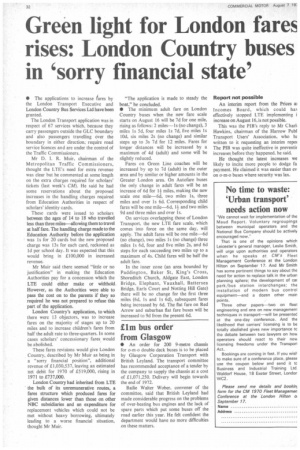 Page 34, 7th August 1970 —
No time to waste: 'Urban transport' needs action now
Close
We cannot wait for implementation of the Maud Report. Voluntary regroupings between municipal operators and the National Bus Company should be actively encouraged now."
That is one of the opinions which Leicester's general manager, Leslie Smith, will urge upon authorities and operators when he speaks at CM's Fleet Management Conference at the London Hilton on September 1 7. And Mr Smith has some pertinent things to say about the need for action to replace talk in the urban planning sphere: the development of car park/bus station interchanges; the installation of modern bus control equipment—and a dozen other main points.
Three other papers—two on fleet engineering and one on new management techniques in transport—will be presented at the one-day conference. And the likelihood that carriers' licensing is to be totally abolished gives new importance tc the debate between two lawyers on how operators should react to their new licensing freedoms under the Transport Act.
Bookings are coming in fast. If you wish to make sure of a conference place, please use the coupon below and send it tc Business and Industrial Training Ltd. Waldorf House, 18 Exeter Street, London WC2.
Please send me details and bookin; form for the CM 1970 Fleet Managemen Conference at the London Hilton 01 September 17.
Name
Address