Green light for London fares rises: London Country buses in 'sorry financial state'
7th August 1970
Page 34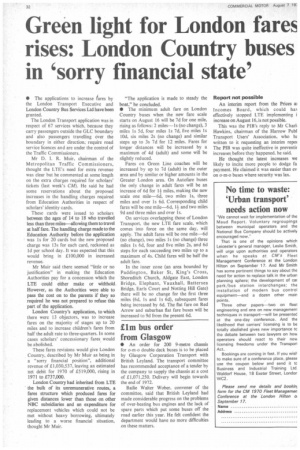 Page 34, 7th August 1970 —
Green light for London fares rises: London Country buses in 'sorry financial state'
Close
• The applications to increase tares by the London Transport Executive and London Country Bus Services Ltd have been granted.
The London Transport application was in respect of 67 services which, because they carry passengers outside the GLC boundary and also passengers travelling over the boundary in either direction, require road service licences and arc under the control of the Traffic Commissioners.
Mr D. I. R. Muir, chairman of the Metropolitan Traffic Commissioners, thought the LTE's need for extra revenue was clear but he commented at some length on the extra charges required for scholars' tickets (last week's CM). He said he had some reservations about the proposed increases in the handling charges required from Education Authorities in respect of scholars' identity cards.
These cards were issued to scholars between the ages of 14 to 18 who travelled less than three miles—allowing them to travel at half fare. The handling charge made to the Education Authority before the application was Is for 20 cards but the new proposed charge was 13s for each card, reckoned as Id per school day. It was expected that this would bring in £100,000 in increased revenue.
Mr Muir said there seemed "little or no justification" in making the Education Authorities pay for a concession which the LTE could either make or withhold. However, as the Authorities were able to pass the cost on to the parents if they so required he was not prepared to refuse this part of the application.
London Country's application, to which there were 13 objectors, was to increase fares on the majority of stages up to 20 miles and to increase children's fares from half the adult rate to three-quarters. In some cases scholars' concessionary fares. would be abolished.
These fares revisions would give London Country, described by Mr Muir as being in a "sorry financial position", additional revenue of £1,030,537, leaving an estimated net debit for 1970 of £519,000, rising in 1971 to £737,000.
London Country had inherited from LTE
• the bulk of its unremunerative routes, a fares structure which produced fares for given distances lower than those on other NBC subsidiaries and an expenditure for replacement vehicles which could not be met without heavy borrowing, ultimately leading to a worse financial situation, thought Mr Muir.
"The application is made to steady the boat," he concluded.
• The minimum adult fare on London Country buses when the new fare scale starts on August 16 will be 7d for one mile, rising as follows: 2 miles—is (no change), 3 miles Is 5d, four miles Is 7d, five miles Is 10d. six miles 2s (no change) and similar steps up to 3s '7d for 12 miles. Fares for longer distances will be increased by a maximum of 4d (adult) and some will be slightly reduced.
Fares on Green Line coaches will be increased by up to 7d (adult) in the outer area and by similar or higher amounts in the Greater London area. On Autofare buses the only change in adult fares will be an increase of 6d for I+ miles, making the new scale one mile-6d, two miles Is, three miles and over Is 6d. Corresponding child fares will be one mile-6d, 1+ and two miles 9d and three miles and over Is.
On services overlapping those of London Transport, the new LTE fare scale, which comes into force on the same day, will apply. The adult fares will be one mile-6d (no change), two miles Is (no change) three miles Is 6d, four and five miles 2s, and 6d steps for each succeeding two miles up to a maximum of 4s. Child fares will be half the adult fare.
In the inner zone (an area bounded by Paddington, Baker St, King's Cross, Shoreclitch Church, Aldgate East, London Bridge, Elephant, Vauxhall, Battersea Bridge, Earls Court and Notting Hill Gate) there will be no change for the first three miles (6d. Is and Is 6d), subsequent fares being increased by 6d. The flat fare on Red Arrow and suburban flat fare buses will be increased to 9d from the present 6d.
Elm bus order from Glasgow
• An order for 200 9-metre chassis for o-m-o double deck buses is to be placed by Glasgow Corporation Transport with British Leyland. The transport committee has recommended acceptance of a tender by the company to supply the chassis at a cost of £1,071.250. Delivery will begin towards the end of 1972.
Bailie Walter Wobcr, convener of the committee, said that British Leyland had made considerable progress on the problems of over-heating bus engines and the lack of spare parts which put some buses off the road earlier this year. He felt confident the department would have no more difficulties on these matters.
Report not possible
An interim report from the Prices ai Incomes Board, which could haN effectively stopped LTE implementing i increase on August 16, is not possible.
This was the PIB's reply to Mr Chart' Hawkins, chairman of the Harrow Publ Transport Users' Association, who lit written to it requesting an interim repot The PIB was quite ineffective in preventit increases before they happened, he said.
He thought the latest increases we likely to incite more people to dodge fa payment. He claimed it was easier than ev on o-m-o buses where security was lax.