[969 education ieport—a all in entries
7th August 1970
Page 33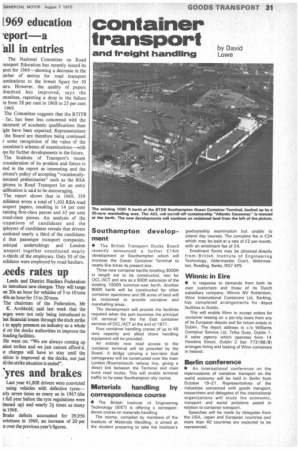 Page 33, 7th August 1970 —
[969 education ieport—a all in entries
Close
The National Committee on Road ransport Education has recently issued its port for 1969—showing a decrease in the amber of entries for road transport .aminations to the lowest figure for 10 :ars. However, the quality of papers ibrnitted has improved, says thc immittee, reporting a drop in the failure te from 28 per cent in 1968 to 23 per cent 1969.
The Committee suggests that the RT1TB far. has been less concerned with the tainment of academic qualifications than ight have been expected. Representations the Board are therefore being continued r some recognition of the value of the 3mmittee's scheme of examinations—with ipe for further developments in the future. The Institute of Transport's recent ::.onsideration of its position and future is Ited in the report as interesting and the stitute's policy of accepting "vocationallyientated preliminaries" such as the RSA iploma in Road Transport for an entry .alification is said to be encouraging.
The report shows that in 1969, 359 ndidates wrote a total of 1,101 RSA road Insport papers, resulting in 14 per cent itaming first-class passes and 63 per cent zond-class passes. An analysis of the cupations of candidates and the iployers of candidates reveals that drivers nstituted nearly a third of the candidates d that passenger transport companies, mid pal undertakings and London -ansport together constituted nearly o-thirds of the employers. Only 50 of the ndidates were employed by road hauliers.
deeds rates up
Leeds and District Hauliers Federation to introduce new charges. They will range en 30s an hour for vehicles of 5 to 10 tons 40s an hour for 15 to 20 tons.
The chairman of the Federation, Mr K. Archbold, said last week that the arges were not only being introduced to 'set financial losses through the dock strike t to apply pressure on industry as a whole d on the docks authorities to improve the loading facilities.
He went on: "We are always coming up ainst strikes and we just cannot afford it. le charges will have to stay until the sition is improved at the docks, not just til the strike situation is ended".
"yres and brakes
Last year 41,808 drivers were convicted using vehicles with defective tyresIrly seven times as many as in 1967 (the t full year before the tyre regulations were htened up) and nearly 2+ times as many in 1968.
Brake defects accounted for 29,956 avictions in 1969, an increase of 20 per it over the previous year's figures.
Southampton development
• The British Transport Docks Board recently announced a further £14m development at Southampton which will increase the Ocean Container Terminal to nearly five times its present size.
Three new container berths totalling 3000ft in length are to be constructed, two for OCL/ACT and one as a 900ft extension of the existing 1000ft common-user berth. Another 900ft berth will be constructed for other container operations and 98 acres of land will be reclaimed to provide container and marshalling areas.
The development will provide the facilities required when the port becomes the principal UK terminal for the Far East container services of OCL /ACT at the end of 1971.
Four container handling cranes of up to 45 tons capacity and allied shore handling equipment will be provided.
An entirely new road access to the container terminal will be provided by the Board. A bridge carrying a two-lane dual carriageway will be constructed over the main London /Bournemouth railway line, giving a direct link between the Terminal and main trunk road routes. This will enable terminal traffic to by-pass Southampton city centre.
Materials handling by correspondence course
• The British Institute of Engineering Technology (BIET) is offering a correspondence course on materials handling.
The course, compiled by members of the Institute of Materials Handling, is aimed at the student preparing to take the Institute's graduateship examination but unable to attend day courses. The complete fee is £24 which may be paid at a rate of E2 per month, with an enrolment fee of £4.
Enrolment forms may be obtained directly from: British Institute of Engineering Technology, Aldermaston Court, Aldermaston, Reading, Berks, RG7 4PE.
Winnic in Eire
• In response to demands from both its own customers and those of its Dutch subsidiary company, Winnic NV Rotterdam, Winn International Containers Ltd, Barking, has completed arrangements for depot facilities in Dublin.
This will enable Winn to accept orders for container leasing on a per-trip basis from any of its European depots and for return empty in Dublin. The depot address is c/o Williams Container Service Ltd, Tolka Quay, Dublin 1. A sales agency which operates from 14 Hawkins Street, Dublin 2 (tel: 773188/9) arranges hiring and leasing of Winn containers in Ireland.
Berlin conference
• An international conference on the repercussions of container transport on the world economy will be held in Berlin from October 19-21. Representatives of the industries concerned with goods transport, researchers and delegates of the international organizations will study the economic, transport and social problems posed in relation to container transport.
Speeches will be made by delegates from the USA, Japan and European countries and more than 40 countries are expected to be represented.