Tribunal dismisses 0 appeal
7th August 1970
Page 32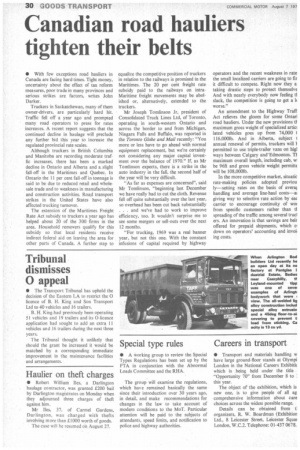 Page 32, 7th August 1970 —
Tribunal dismisses 0 appeal
Close
• The Transport Tribunal has upheld the decision of the Eastern LA to restrict the 0 licence of B. H. King and Son Transport Ltd to 40 vehicles and 16 trailers.
B. H. King.had previously been operating 51 vehicles and 19 trailers and its 0-licence application had sought to add an extra 11 vehicles and 16 trailers during the next three years.
The Tribunal thought it unlikely that should the grant be increased it would be matched by a corresponding immediate improvement in the maintenance facilities and arrangements.
Haulier on theft charges
• Robert William Iles, a Darlington haulage contractor, was granted £200 bail by Darlington magistrates on Monday when they adjourned three charges of theft against him.
Mr Iles, 37, of Carmel Gardens, Darlington, was charged with thefts involving more than £1000 worth of goods.
The case will be resumed on August 27.
Special type rules
• A Working group to review the Special Types Regulations has been set up by the FTA in conjunction with the Abnormal Loads Committee and the RHA.
The group will examine the regulations, which have remained basically the same since their introduction over 30 years ago, in detail, and make recommendations for changes in the law to take account of modern conditions to the MoT. Particular attention will be paid to the subjects of attendants, speed limits, and notification to police and highway authorities.
Careers in transport
• Transport and materials handling w have large ground-floor stands at Olympi London in the National Careers Exhibitic which is being held under the title "Opportunity 70" from December 8 to • this year.
The object of the exhibition, which is new one, is to give people of all ag comprehensive information about care choices across the widest possible range.
Details can be obtained from t. organizers, R. NV. Boardman (Exhibition Ltd., 8 Leicester Street, Leicester Squat London. W.C.2. Telephone: 01-437 0678.