Canadian road hauliers tighten their belts
7th August 1970
Page 32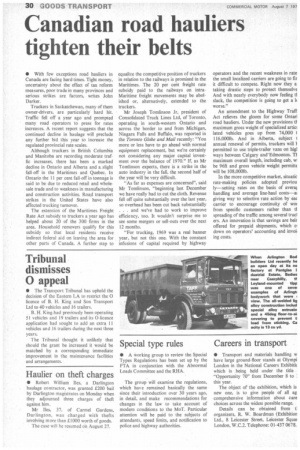 Page 32, 7th August 1970 —
Canadian road hauliers tighten their belts
Close
• With few exceptions road hauliers in Canada are facing hard times. Tight money, uncertainty about the effect of tax reform measures, poor trade in many provinces and serious strikes are factors, writes John Darker.
Truckers in Saskatchewan, many of them owner-drivers, are particularly hard hit. Traffic fell off a year ago and prompted many road operators to press for rates increases. A recent report suggests that the continued decline in haulage will preclude any further bid this year to increase the regulated provincial rate scales.
Although truckers in British Columbia and Manitoba are recording moderate traffic increases, there has been a marked decline in Ontario and Alberta and a.slight fall-off in the Maritimes and Quebec. In Ontario the 11 per cent fall-off in tonnage is said to be due to reduced retail and wholesale trade and to weakness in manufacturing and construction activities. Road transport strikes in the United States have also affected trucking turnover.
The extension of the Maritimes Freight Rate Act subsidy to truckers a year ago has helped about 20 of the 300 firms in the area_ Household removers qualify for this subsidy so that local residents receive indirect federal aid on leaving the area for other parts of Canada. A further step to equalize the competitive position of truckers in relation to the railways is promised in the Maritimes. The 20 per cent freight rate subsidy paid to the railways on intraMaritime freight movements may be abolished or, alternatively, extended to the truckers.
Mr Joseph Tomlinson Jr, president of Consolidated Truck Lines Ltd, of Toronto, operating in south-western Ontario and across the border to and from Michigan, Niagara Falls and Buffalo, was reported in the Toronto Globe and Mail recently: "You more or less have to go ahead with normal equipment replacement, but we're certainly not considering any major capital investment over the balance of 1970." if, as Mr Tomlinson expects, there is a strike in the auto industry in the fall, the second half of the year will be very difficult.
"As far as expenses are concerned", said Mr Tomlinson, "beginning last December we have really had to cut the cloth. Revenue fell off quite substantially over the last year, so overhead has been cut back substantially . . and we've had to work to improve efficiency, too. It wouldn't surprise me to see some mergers or sell-outs over the next 12 months.
"For trucking, 1969 was a real banner Year, but not this one. With the constant infusions of capital required by highway operators and the recent weakness in rate the small localized carriers are going to fir it difficult to compete. Right now they a taking drastic steps to protect thernselve And with nearly everybody now feeling ti slack, the competition is going to get a h worse."
An amendment to the Highway Tr.aff Act relieves the gloom for some Ontari road hauliers. Under the new provisions ti maximum gross weight of specialized artio lated vehicles goes up from 74,000 t 116,000lb. And in Alberta, subject I annual renewal of permits, truckers will I permitted to use triple-trailer vans on higl ways between Calgary and Edmonton. TI maximum overall length, including cab, w be 96ft and gross vehicle weight permittc will be 108,000lb.
In the more competitive market, situatic rate-making policies adopted previou ly—setting rates on the basis of averaf handling and average line-haul costs--ai giving way to selective rate action by eat carrier to encourage continuity of woi from specific customers rather than ti spreading of the traffic among several true! ers. An innovation is that savings are heir offered for prepaid shipments, which ci down on operators' accounting and invot ing costs.