N ew warehouse has % li s l i e st o a f n i c e e a)st
7th August 1970
Page 31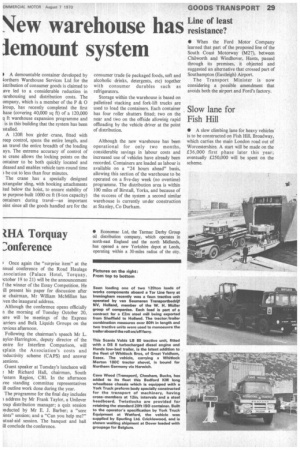 Page 31, 7th August 1970 —
N ew warehouse has % li s l i e st o a f n i c e e a)st
Close
lemount system
I A demountable container developed by 4orthern Warehouse Services Ltd for the istribution of consumer goods is claimed to ave led to a considerable reduction in rarehousing and distribution costs. The ompany. which is a member of the P & 0 iroup, has recently completed the first hase (covering 40,000 sq ft) of a 120,000 q ft warehouse expansion programme and is in this building that the system has been istalled.
A 120ft box girder crane, fitted with reep control, spans the entire length, and an travel the entire breadth of the loading ays. The extreme accuracy of control of le crane allows the locking points on the ontainer to be both quickly located and !leased and enables vehicle turn-round time ) be cut to less than four minutes.
The crane has a specially designed !ctangular sling, with hooking attachments led below the hoist, to ensure stability of le purpose-built 1000 cu ft (8-ton capacity) ontainers during travel—an important oint since all the goods handled are for the consumer trade (ie packaged foods, soft and alcoholic drinks, detergents, etc) together with consumer durables such as refrigerators.
Storage within the warehouse is based on palletized stacking and fork-lift trucks are used to load the containers. Each container has four roller shutters fitted; two on the near and two on the offside allowing rapid offloading by the vehicle driver at the point of distribution.
Although the new warehouse has been operational for only two months, considerable savings in labour costs and increased use of vehicles have already been recorded. Containers are loaded as labour is available on a "24 hours ahead" basis, allowing this section of the warehouse to be operated on a five-day week (no overtime) programme. The distribution area is within 100 miles of Birstall, Yorks, and because of the success of the system a second similar• warehouse is currently under construction at Stanley, Co Durham.
• When the Ford Motor Company learned that part of the proposed line of the South Coast Motorway (M27), between Chilworth and Windhover, Hants, passed through its premises, it objected and suggested an alternative that crossed part of Southampton (Eastleigh) Airport.
The Transport Minister is now considering a possible amendment that avoids both the airport and Ford's factory.
Slow lane for Fish Hill
• A slow climbing lane for heavy vehicles is to be constructed on Fish Hill, Broadway, which carries the main London road out of Worcestershire. A start will be made on the £36,000 first phase later this year; eventually £250,000 will be spent on the scheme.