ETA supports anti-pollution objectives
7th August 1970
Page 30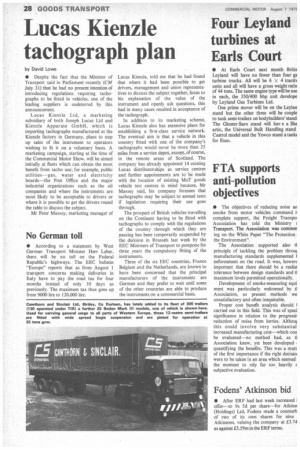 Page 30, 7th August 1970 —
ETA supports anti-pollution objectives
Close
• The objectives of reducing noise an smoke from motor vehicles command ii complete support, the Freight Transpo Association has told the Ministry ( Transport. The Association was comma ing on the White Paper "The Protection the Environment".
The Association supported also tl principle of tackling the problem throul manufacturing standards supplemented enforcement on the road. It was, howevt important that there should be a realist tolerance between design standards and tl maximum levels permitted operationally.
Development of smoke-measuring equi ment was particularly welcomed by tl Association, as present methods we unsatisfactory and often inequitable.
Proper cost benefit analysis should I carried out in this field. This was of speci significance in relation to the progressi, reduction of noise from lorries. Althouf this could involve very substantial increased manufacturing cost—which cou be evaluated—no method had, as ti Association knew, yet been developed quantifying the benefits. This was a matt of the first importance if the right decisith were to be taken in an area which seemed the moment to rely far too, heavily subjective evaluation.
Fodens' Atkinson bid
• After ERF had last week increased offer—to 9s 5d per share---for Atkins( (Holdings) Ltd, Fodens made a counterb of two of its own shares for nine Atkinsons, valuing the company at 0.74 as against £3 .59m in the ERF terms.