Larrow back with different directors
7th August 1970
Page 29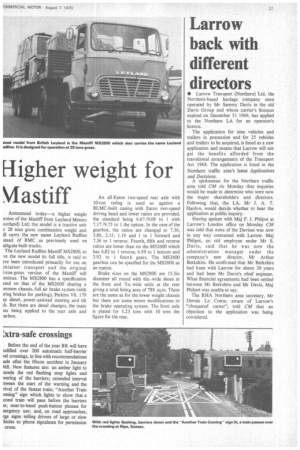 Page 29, 7th August 1970 —
Larrow back with different directors
Close
• Larrow Transport (Northern) Ltd, the Northern-based haulage company once operated by Mr Sammy Davis in the old Davis Group and whose carrier's licences expired on December 31 1969, has applied to the Northern LA for an operators licence.
The application for nine vehicles and trailers in possession and for 25 vehicles and trailers to be acquired, is listed as a new application and means that Larrow will not get the benefits afforded from the transitional arrangements of the Transport Act 1968. The application is listed in the Northern traffic area's latest Applications and Decisions.
A spokesman for the Northern traffic area told CM tin Monday that inquiries would be made to determine who were now the major shareholders and directors. Following that, the LA, Mr J. A. T. Hanlon, would decide whether to hear the application at public inquiry.
Having spoken with Maj F. J. Philpot at Larrow's London office on Monday CM was told that none of the Davises was now in any way connected with Larrow. Maj Philpot, an old employee under Mr S. Davis, said that he was now the administration manager under the company's new director, Mr Arthur Berkshire. He confirmed that Mr Berkshire had been with Larrow for about 30 years and had been Mr Davis's chief engineer. What financial agreements had been settled between Mr Berkshire and Mr Davis, Maj Philpot was unable to say.
The RHA Northern area secretary, Mr Dennis Le Conte, aware of Larrow's "chequered career", told CM that an objection to the application was being considered.