Higher weight for Wastiff
7th August 1970
Page 29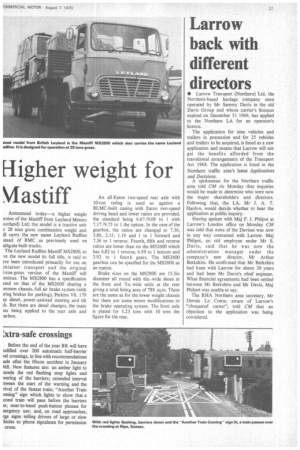 Page 29, 7th August 1970 —
Higher weight for Wastiff
Close
Announced today—a higher weight a-sion of the Mastiff from Leyland Motors cotland).Ltd; the model is a tractive unit ir 28 tons gross combination weight and ill carry the new name Leyland Redline stead of BMC as previously used on athg ate-built trucks.
The Leyland Redline Mastiff MS2800, to ve the new model its full title, is said to we been introduced primarily for use on )ntainer transport and the original 5-ton-gross version of the Mastiff will nitinue. The MS2800 has a specification tsed on that of the MS2600 sharing a )mmon chassis, full air brake system (with wing brakes for parking), Perkins V8, 179 tp diesel, power-assisted steering and tilt ib. But there are detail changes, the main les being applied to the rear axle and :arbox. An all-Eaton two-speed rear axle with 10-ton rating is used as against a BLMC-built casing with Eaton two-speed driving head and lower ratios are provided, the standard being 6.67 /9.08 to 1 with 7.17 /9.75 to [the option. In the case of the gearbox, the ratios are changed to 7.36, 3.86, 2.15, 1.19 and 1 to 1 forward and 7.36 to 1 reverse. Fourth, fifth and reverse ratios are lower than on the MS2600 which has 6.82 to 1 reverse, 6.99 to 1 bottom and 3.92 to 1 fourth gears. The MS2600 gearbox can be specified for the MS2800 as an option.
Brake sizes on the MS2800 are 15.5in diameter all round with 6in.-wide shoes at the front and 7in.-wide units at the rear giving a total lining area of 788 sq.in. These are the same as for the lower weight chassis but there are some minor modifications to the brake operating system. The front axle is plated for 5.25 tons with 10 tons the figure for the rear.