Six weeks to the Show
7th August 1970
Page 28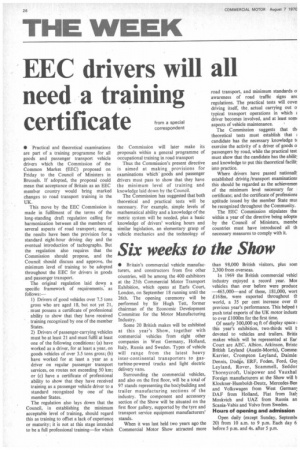 Page 28, 7th August 1970 —
Six weeks to the Show
Close
Keywords :
Leyland Motors
,
Scania Ab
,
British Leyland
,
Associated Equipment Company
,
Scania-vabis
,
Södertälje Municipality
,
Karrier
,
Uaz
,
Scammell
,
Vabis
,
Albion Motors
,
Thornycroft
• Britain's commercial vehicle manufacturers, and constructors from five other cenintries, will be among the 400 exhibitors at the 25th Commercial Motor Transport Exhibition, which opens at Earls Court, London, on September 18 running until the 26th. The opening ceremony will be performed by Sir Hugh Tett, former chairman of the Economic Development Committee for the Motor Manufacturing Industry.
Some 20 British makes will be exhibited at this year's Show, together with commercial vehicles from eight other companies in West Germany, Holland, Italy, Russia and Sweden: Types of vehicle will range from the latest heavy inter-continental transporters to gasturbine-powered trucks and light electric delivery vans.
Surrounding the commercial vehicles, and also on the first floor, will be a total of 97 stands representing the bodybuilding and trailer manufacturing sections of the industry. The component and accessory section of the Show will be situated on the first floor gallery, supported by the tyre and transport service equipment manufacturers' stands.
When it was last held two years ago the Commercial Motor Show attracted more than 98,000 British visitors, plus som 2,300 from overseas.
In 1969 the British commercial vehicl industry enjoyed a record year. Mor vehicles than ever before were produce —465,000--and of these, 181,000, wort £168m, were exported throughout th world, a 35 per cent increase over th previous year's performance. This helped t push total exports of the UK motor industr to over £1000m for the first time.
Of nearly 300,000 sq ft of display space ; this year's exhibition, two-thirds will h devoted to vehicles and trailers. Britis makes which will be represented at Ear Court are AEC, Albion, Atkinson, Bristo British Leyland (Austin-Morris), Commet Karrier, Crompton Leyland, Daimle. Dennis, Doclie, ERF, Foden, Ford, Gu3 Leyland, Rover, Scammell, Seddor Thornycroft, Unipower and Vauxhal Foreign manufacturers at the Show will b Klockner-Humboldt-Deutz, Mercedes-Ben and Volkswagen from West German). DAF from Holland, Fiat from nal! Moskvich and UAZ from Russia an Scania-Vabis and Volvo from Sweden. Hours of opening and admission
Open daily (except Sunday, Septemb( 20) from 10 a.m. to 9 p.m. Each day 6 before 5 p.m. and 4s. after 5 p.m.