Roads and Future of Europe
7th April 1950
Page 63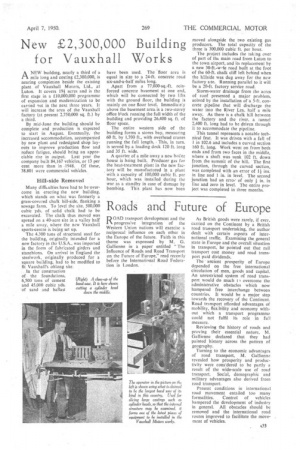 Page 63, 7th April 1950 —
Roads and Future of Europe
Close
ROAD transport development and the progressive integration of the Western Union nations will exercise a reciprocal influence on each other in the Europe of the future. Faith in this theme was expressed by M. G. Gallienne in a paper entitled " The Influence of Roads and Road Transport on the Future of Europe," read recently before the International Road Federation in London.
As British goods were rarely, if ever, carried on the Continent by a British road transport undertaking, the author dealt with certain aspects of international traffic. Examining the general state in Europe and the overall situation in transport, he pointed out that rail transport cost money and road transport paid dividends.
The ancient prosperity of Europe depended on the free international circulation of men, goods and capital. An unrestricted system of road transport would do much t overcome the administrative obstacles which now hampered free interchange between countries. It would be a major step towards the recovery of the Continent. Road transport afforded advantages of mobility, flexibility and economy without which a transport programme could not fulfil its role in full measure.
Reviewing the history of roads and proving their essential nature, M. Gallienne declared that they had painted history across the pattern of geography.
Turning to the economic advantages of road transport, M. Gallienne revealed how prosperity and productivity were considered to be partly a result of the wide-scale use of road transport. Social, demographic and military advantages also derived from road transport.
Present conditions in international road movement entailed too many formalities. Control of vehicles hampered the development of industry in general. All obstacles should be removed and the international road routes improved to facilitate the Movement of vehicles.