Visibility Stressed in New Coach Designs
7th April 1950
Page 47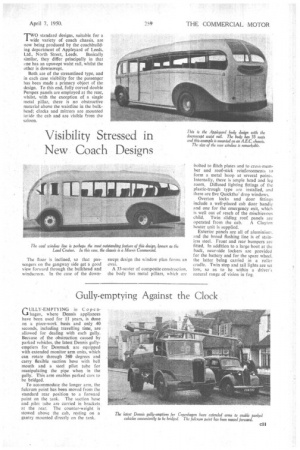 Page 47, 7th April 1950 —
Visibility Stressed in New Coach Designs
Close
TWO standard designs, suitable for a wide variety of coach .chassis, are now being produced by the coachbuilding department of Appleyard of Leeds, Ltd., North Street, Leeds. Basically similar, they differ principally in that one has an upswept waist rail, whilst the other is downswept.
Both are of the streamlined type, and in each case visibility for the passenger has been made a primary object of the design. To this end, fully curved double Perspex panels are employed at the rear, whilst, with the exception of a single metal pillar, there is no obstructive material above the waistline in the bulkhead; clocks and mirrors are mounted inside the cab and are visible from the saloon.
The floor is inclined, so that passengers on the gangway side get a good view forward through the bulkhead and windscreen. in the case of the down
swept design the window plan forms an oval.
A 33-seater of composite construction, the body has metal pillars, which are bolted to flitch plates and to cross-member and roof-stick reinforcements to form a metal hoop at several points. Internally, there is ample head and leg room. Diffused lighting fittings of the plastic-trough type are installed, and there are five Quicktho' drop windows, Overton locks and door fittings include a well-placed cab door handle and one for the emergency exit, which is well out of reach of the mischievous child. Twin sliding roof panels are operated from the cab. A Clayton heater unit is supplied.
Exterior panels are all of aluminium, and the broad flashing line is of stainless steel. Front and rear bumpers arc fitted. In addition to a large boot at the back, near-side lockers are provided for the battery and for the spare wheel, the latter being carried in a roller cradle. Twin stop and tail lights are set low, so as to be within a driver's natural range of vision in fog.