Middle-Aged Spread T HE Ribble organization has had 15 Leyland TD5
7th April 1950
Page 45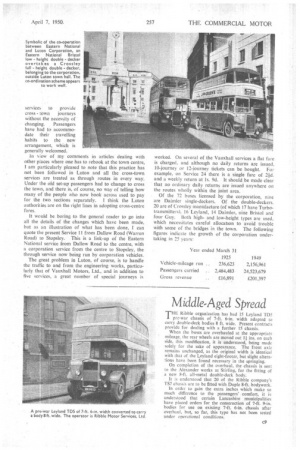 Page 45, 7th April 1950 —
Middle-Aged Spread T HE Ribble organization has had 15 Leyland TD5
Close
pre-war chassis of 7-ft. 6-in, width adapted to carry double-deck bodies 8 ft. wide. Present contracts provide for dealing with a further 15 chassis.
When the buses are overhauled at the appropriate mileage, the rear wheels are moved out 11ins. on each side, this modification, it is understood, being made solely for the sake of appearance. The front axle remains unchanged, as the original width is identical with that of the Leyland eight-footer, but slight alterations have been found necessary in the springing.
On completion of the overhaul, the chassis is sent to the Alexander works at Stirling, for the fitting of a new 8-ft. all-metal double-deck body.
It is understood that 20 of the Ribble company's TS7 chassis are to be fitted with Duple 8-ft. bodywork.
in order to gain the extra inches which make so much difference to the passengers' comfort, it is understood that certain Lancashire municipalities have placed orders for the construction of 7-ft. 9-in. bodies for use on existing 7-ft. 6-in, chassis after overhaul, but, so far, this type has not been tested under operational conditions.