"Desperate" Need for Standard Refuse Collectors
7th April 1950
Page 43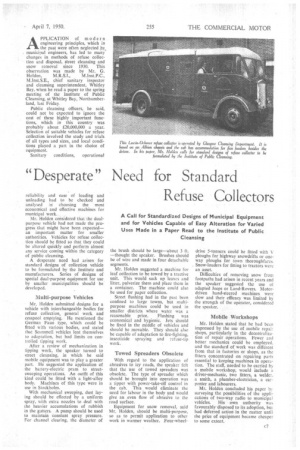 Page 43, 7th April 1950 —
"Desperate" Need for Standard Refuse Collectors
Close
A Call for Standardized Designs of Municipal Equipment and for Vehicles Capable of Easy Alteration for Varied Uses Made in a Paper Read to the Institute of Public Cleansing APPL1CATION of modern engineering principles, which in the past were often neglected .hy. municipal engineers, has led to many changes in methods of refuse collection and disposal, street cleansing and snow removal since 1930. This observation was made by Mr. G.
Holden, M.R.S.I., M.Inst.P.C., Minst.S.E., chief sanitary inspector and cleansing superintendent, Whitley Bay, when he read a paper to the spring meeting of the Institute of Public Cleansing, at Whitley Bay, Northumberland, last Friday.
Public cleansing officers, he said, could not be expected to ignore the cost of these highly important functions, which in this country was probably about /20,000,000 a year. Selection of suitable vehicles for refuse collection involved the study and trials of all types and sizes, and local conditions played a part in the choice of equipment.
Sanitary conditions, operational reliability and ease of loading and unloading had to be checked and analysed in choosing the most economical and effective machines for municipal work. , Mr. Holden considered that the dualpurpose vehicle had not made the progress that might have been expected— an important matter for smaller authorities. Vehicles for refuse collection should be fitted so that they could be altered quickly and perform almost any service coming within the category of public cleansing.
A desperate need had arisen for standard designs of collection vehicle to be formulated by the Institute and manufacturers. Series of designs of special dual-purpose equipment for use by smaller municipalities should be developed.
Multi-purpose Vehicles
Mr. Holden submitted designs for a vehicle with interchangeable bodies for refuse collection, general work and cesspool emptying. He mentioned the German Faun type, which could he fitted with various bodies, and stated that Seammell vehicles lent themSelves to adaptation, but had limits on controlled tipping work.
After a review of mechanization in tipping work, the speaker turned to street cleansing, in which he said mobile equipment was to play a greater part. He suggested the application of the battery-electric pram to streetsweeping operations. An outfit of this kind could be fitted with a light-alloy body. Machines of this type were in use in Stockholm.
With mechanical sweeping, dust laying should be effected by a uniform spray, with extra nozzles to deal with the heavier accumulations of rubbish in the gutters. A pump should be used to maintain constant spray pressure. For channel clearing, the diameter of the brush should be large—about 3 ft. —thought the speaker. Brushes should be of wire and made in four detachable segments.
Mr. Holden suggested a machine for leaf collection to be towed by a tractive unit. This would suck up leaves and litter, pulverize them and place them in a container. The machine could also be used for paper collection.
Street flushing had in the past been confined to large towns, but multipurpose machines could be used in smaller districts where water was a reasonable price. Flushing was economical and hygienic. Jets should be fixed in the middle of vehicles and should be movable. They should also be capable of adaptation to fire-fighting, insecticide spraying and refuse-tip work.
Towed Spreaders Obsolete
With regard to the application of abrasives to icy roads, the speaker felt that the use of towed spreaders was obsolete. The type of spreader which should be brought into operation was a tipper with power-take-off control in the cab. This would eliminate the need for labour in the body and would give an even flow of abrasive to the road surface.
Equipment for snow removal, said Mr. Holden, should be multi-purpose, so as to permit application to other work in warmer weather. Four-wheel
drive 5-tonners could be fitted with V ploughs for highway snowdrifts or oneway ploughs for town thoroughfares. Snow-loaders for fitting to tractors were an asset.
Difficulties of removing snow from footpaths had arisen in recent years and the speaker suggested the use of adapted Jeeps or Land-Rovers. Motordriven hand-steered machines were slow and their efficacy was limited by the strength of the operator, considered the speaker.
Mobile Workshops
Mr. Holden stated that he had been impressed by the use of mobile repair shops, particularly in the decentralization of repair operations. Fewer and better mechanics could be employed, and the standard of work was different from that in factories or shops, as the fitters concentrated on repairing parts essential to keeping machines in operation. The staff, needed to be carried by a mobile workshop, would include a driver-mechanic, two fitters, a welder. a smith, a plumber-electrician, a carpenter and labourers.
Mr. Holden concluded his paper by surveying the possibilities of the applications of two-way radio to municipal vehicles. His own authority was favourably disposed to its adoption, but had deferred action in the matter until the price of equipment became cheaper to some extent.