A Continental Cruiser
7th April 1950
Page 39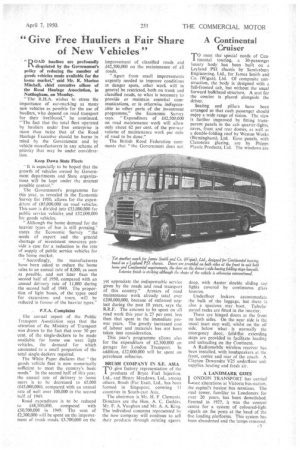 Page 39, 7th April 1950 —
A Continental Cruiser
Close
To meet the special needs of Continental touring, a 30-passenger luxury body has been built on a Leyland PSI chassis by Samlesbury Engineering, Ltd., for James Smith and Co. (Wigan), Ltd. Of composite construction, the body is designed with a full-fronted cab, but without the usual forward bulkhead structure. A seat for the courier is placed alongside the driver.
Seating and pillars have been arranged so that each passenger should enjoy a wide range of vision. The view is further improved by fitting transparent panels in the cab quarter-lights, eaves, front and rear domes, as well as a double-folding roof by Weston Works (Birmingham), Ltd. Eave panels, with Clatonrite glazing, are by Phipps Plastic Products, Ltd. The windows are deep, with Auster double sliding top lights covered by continuous glass louvres.
Underfloor lockers accommodate the bulk of the luggage, but there is also a spacious .rear boot. Tubular parcel racks are fitted in the interior.
There are hinged doors at the front on both sides. On the near side is the usual inset step well, whilst on the off side, below what is normally the emergency door, fold-flat extending steps are provided to facilitate loading and unloading on the Continent.
A Radiomobile wireless receiver has been installed, with loudspeakers at the from, centre and rear of the coach. A Clayton Dewandre V25 underfloor unit supplies heating and fresh air.