State Industries in Good Hands
7th April 1950
Page 38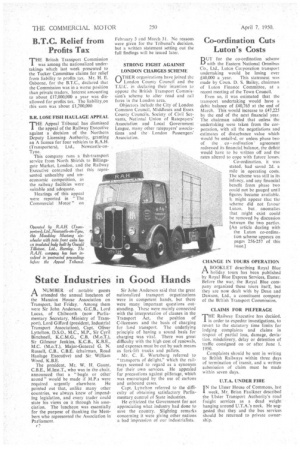 Page 38, 7th April 1950 —
State Industries in Good Hands
Close
ANUMBER. of notable guests attended the annual luncheon of the Mansion House Association on Transport, last Friday. Among them were Sir John Anderson, G.C.B., Lord Lucas, of Chilworth (now Parliamentary Secretary, Ministry of Transport), Lord Gifford (president, Industrial Transport Association), Capt.Oliver Lyttelton, D.S.O., MC., M.P., Sir Cyril Birtchnell, K.C.M.G., C.B. (M.o.T.). Sir Gilmour Jenkins, K.C.B., K.B.E., M.C. (M.o.T.), Major-General' G. N. Russell, C.B., C.B.E. (chairman. Road Haulage Executive) and Sir William Wood, K.B.E.
The president, Mr. W. H. Gaunt, C.B.E., Mirist.T., who was in the chair, announced that a "bugle or other sound" would be made if M.P.s were required urgently elsewhere. He pointed out that, unlike many other countries, we always knew of impending legislation, and every trader could state his views on it through his association. The luncheon was essentially for the purpose of thanking the Memberg who represented the Association in Parliament. Sir John Anderson said that the great nationalized transport organizations were in competent hands, but there were many important questions outstanding. These were mainly connected with the interpretation of clauses in the Transport Act, the position of C-licensees and the basis of charging for land transport. The underlying principle of having a sound basis for charging was vital. There was great difficulty with the high cost of renewals, and expenses must be cut by such means as fork-lift trucks and pallets.
Mr. C. E. Wurtzburg referred to " transports of delight," which the railways seemed to regard as a synonym for their own services. He appealed far precautions against pilferage, which was encouraged by the use of cartons and unbound cases.
Capt. Lyttelton referred to the difficulty of obtaining satisfactory Parliamentary control of State industries.
He criticized the Government for not appreciating what industry had done to save the country. Slighting remarks concerning it were giving other nations a bad impression of our industrialists.