P.S.V. Quota Too Low, Says P.T.A.
7th April 1950
Page 37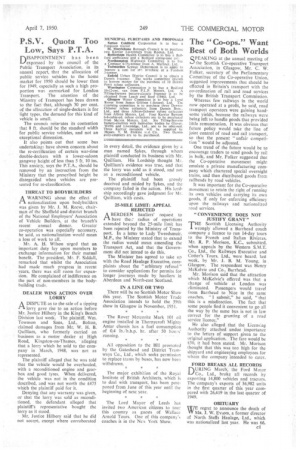 Page 37, 7th April 1950 —
P.S.V. Quota Too Low, Says P.T.A.
Close
DISAPPOINTMENT has s been L./expressed by the council of the Public Transport Association, in its annual report, that the allocation of public service vehicles to the home market for 1950 should be lower than for 1949, especially as such a high proportion was earmarked for London Transport. The attention of the Ministry of Transport has been drawn to the fact that, although 30 per cent. of the allocation of single-deckers is for light types, the demand for this kind of vehicle is small.
The councir reiterates its contention that 8 ft. should be the standard width for public service vehicles, and not an exceptional dimension. It also points out that some bus undertaking's have shown concern about the re-certification of certain war-time double-deckers with a lower-saloon gangway height of less than 5 ft. 10 ins. This anxiety, says the P.T.A., should be removed by an instruction from the Ministry that the prescribed height be disregarded when vehicles are presented for re-classification.