"R.H.E. Wants All Traffic
7th April 1950
Page 33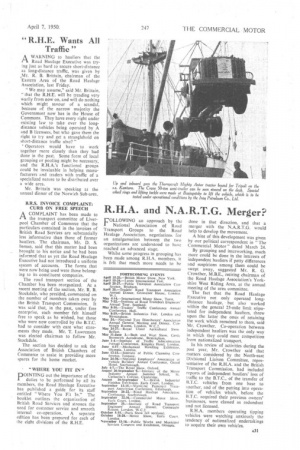 Page 33, 7th April 1950 —
"R.H.E. Wants All Traffic
Close
AWARNING to hauliers that the Road Haulage Executive was trying just as hard to secure short-distance as long-distance traffic, was given by Mr. R. B. Brittain, chairman of the Eastern Area of the Road Haulage Association, last Friday.
"We may assume," said Mr. Brittain, "that the R.H.E. will be treading very warily from now on, and will do nothing which might savour of a scandal, because of the narrow majority the Government now has in the House of Commons. They have every right under existing law to take over the longdistance vehicles being operated by A and B licensees, but who gave them the right to try and get a stranglehold on short-distance traffic also?"
• Operators would have to work together more closely than they had done in the past. Some form of local grouping or pooling might be necessary, and the R.H.A.'s functional groups could be invaluable in helping manufacturers and traders with traffic of a specialized nature to be distributed over a wide area.
Mr. Brittain was speaking at the annual dinner of the Norwich Sub-area.