R.H.A. and N.A.R.T.G. Merger?
7th April 1950
Page 33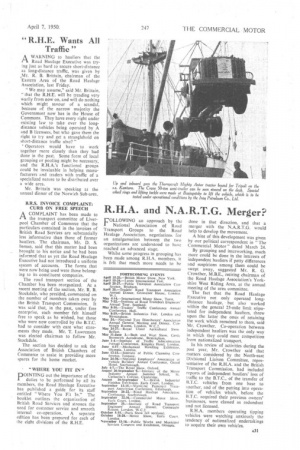 Page 33, 7th April 1950 —
R.H.A. and N.A.R.T.G. Merger?
Close
FOLLOWING an approach by the National Association of Road Transport Groups to the Road Haulage Association, negotiations for an amalgamation between the two organizations are understood to have reached an advanced stage.
Whilst some progress in grouping has been made among R.H.A. members, it is felt that much more needs to he done in that direction, and that a merger with the N.A.R.T.G. would help to develop the movement.
A hint of this development was given by our political correspondent in "The Commercial Motor" dated March 24.
By grouping and interworking, much more could be done in the interests of independent hauliers if petty differences and suspicions among them could be swept away, suggested Mr. R. G. Crowther, M.B.E., retiring chairman of the Road Haulage Association's Yorkshire West Riding Area, at the annual meeting of the area committee. .
The fact that the Road Haulage Executive not only operated longdistance haulage, but also worked within the general 25-mile limit stipulated for independent hauliers, threw upon the latter the onus of retaining the work which remained to them, said Mr. Crowther. Co-operation between independent hauliers was the only way in which they could meet competition from nationalized transport.
In his review of activities during the past year, Mr. Crowther said that matters considered by the North-east Divisional Liaison Committee, representative of the R.H.A. and the British Transport Commission, had included reports of independent hauliers' loss of traffic to the B.T.C., of the transfer of B.T.C. vehicles from one base to another, and of the putting into operation of vehicles which, before the B.T.C. acquired their previous owners' businesses, were classed as redundant and not licensed.
R.H.A. members operating tipping vehicles were watching anxiously the tendency of nationalized undertakings to acquire their own vehicles.