One Hears—
7th April 1950
Page 31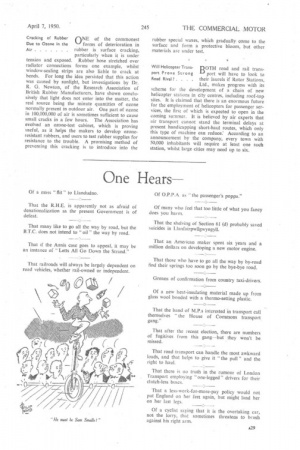 Page 31, 7th April 1950 —
One Hears—
Close
Of a mass " flit " to Llandudno.
That the R.H.E. is apparently not as afraid of denationalization as the present Government is of defeat.
That many like to go all the way by road, but the B.T.C. does not intend to " oil " the way by road.
That if the Annis case goes to appeal, it may be an instance of "Letts All Go Down the Strand." _ That railroads will always be largely dependent on road vehicles, whether rail-owned or independent. Of 0.P.P.A as "the passenger's poppa."
Of many who feel that too little of what you fancy does you harm.
That the shelving of Section 61(d) probably saved suicides in Llanfairpwllgwyngyll.
That an American maker spent six years and a million dollars on developing a new motor engine.
That those who have to go all the way by by-road find their springs too soon go by the bye-bye road.
Groans of confirmation from country taxi-drivers.
Of a new heat-insulating material made up from glass wool bonded with a thermo-setting plastic.
That the the band of M.P.s interested in transport call themselves "the House of Commons transport gang."
That after the recent election, there are numbers of fugitives from this gang—but they won't be missed. _ That road .transport can handle the most awkward loads, and that helps to give it "the pull" and the right to haul.
That there is no truth in the rumour of London Transport employing "one-legged" drivers for their clutch-less buses.
That a less-work-for-more-pay policy would not put England on her feet again, but might land her on her last legs.
Of a cyclist saying that it is the overtaking car, not the lorry, that sometimes threatens to brush against his right arm.