A Jack Crane for 35-cwt. Loads
7th April 1944
Page 32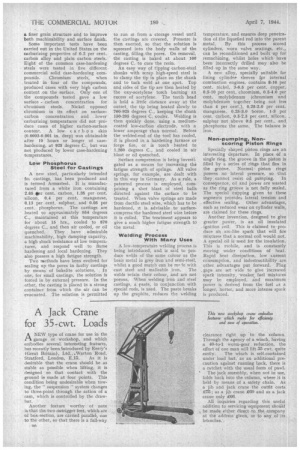 Page 32, 7th April 1944 —
A Jack Crane for 35-cwt. Loads
Close
ANEW type of crane for use in the garage or Workshop, and which embodies several. interesting features, has recently been Introduced by Kerry's (Great Britain), Ltd., sWarton Road,
Stratford, London, E.15. As it is desirable that the crane should be as stable as possible when lifting, it is designed so that contact with the ground is made at four points. This condition being undesirable when towing, the " suspension " system changes to three-point through the action of a cam, which is controlled by the drawbar.
Another feature worthy of note is that the two outrigger feet, which are of box-section, are carried parallel, one to the other, so that there is a full-way no clearance right, up to the column.. Through the agency of a winch, having a 40-to-1 worm-gear reduction, the effort of one man will lift Xi cwt. quite ' easily. The winch is self-contained under load but, as an additional precaution against running back, there is a ratchet with the usual form of pawl.
The. jack assembly, when not in use, folds back into the column, where it is held by means of a safety chain. As a jib and jack crane the outfit costa £75; as a jib crane 00 and as a jack crane only £66.
All inquiries regarding this useful addition to servicing equipment should be made either direct to the company at the address given, or t6 any _Of its bfanches.,