American Operators' Criticisms of Present-day Vehicles
7th April 1944
Page 28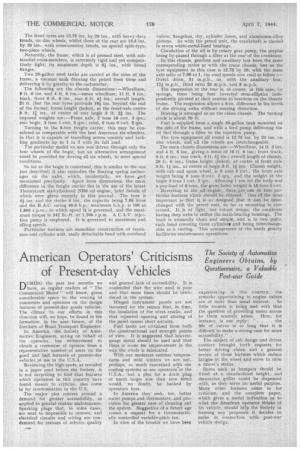 Page 28, 7th April 1944 —
American Operators' Criticisms of Present-day Vehicles
Close
The Society of Automotive Engineers Obtains, by Questionnaire, a Valuable Post-war Guide
r\LTRING the past few Months we Li have, as regular readers of " The Commercial Motor" will know, given considerable space to the voicing of comments and opinions on the design features of present-day goods vehicles. The climax to our efforts in this. direction will, we hope, be found in the formation, in the near future, of the Institute of Road Transport Engineers.
In America, the Society of Automotive Engineers, acting on behalf of the operator, has endeavoured to obtain a consensus of opinion from a representative number of users 'on the good and had features of present-day vehicles in use in the U.S.A.
Reviewing the high .spots, as revealed in a paper read before the Society, it is not surprising to find that .features which operators in this country: have found reason to criticize, also come in for condemnation in the U.S.
The major plea centres around a demand for greater accessibility, as applied to general routine maintenance. Sparking plugs that, in some cases, are next to impossible to remove, and . electrical circuits and wiring are condemned for :reasons of inferior quality and general lack of accessibility. It is contended that the wire used is poor and that more fuses should he introduced in the system.
Hinged instrument panels are not favoured for the reason that, in time, the insulation of the wires cracks, and that repeated opening and closing of the panel causes short circuits.
Fuel tanks are criticized from both the constructional and strength points of view. It is suggested that heaviergauge metal should be used and that there is room for improvement in the way the whole is fabricated.
With our moderate summer temperatures and mild winters we are not, perhaps, so much concerned with our cooling systems as are operators in the U.S.A., but a plea for a drain plug of much larger size than now fitted would, no doubt, be backed by operators here.
In America they seek, too, better water pumps and thermostats, and provision for greater ease of cleaning out the system. Suggestive of a. future age comes a request for a thermostatically controlled variable-pitch fan.
In view of the trouble we have been
experiencing' in this emintry, the remarks appertaining to engine vales are of more than usual interest. So little trouble is being met with that the question of providing easier access to them scarcely arises. Here, for instance, is one reply; " . . . . the life of valves is so long that it is difficult to make a strong case for more accessibility."
The subjeCt of cab design and driver, comfort brought forth requests for better driving vision and a general review of those features which reduce fatigue at the wheel and serve to raise a driver's status.
Hems such as bumpers should be fitted at a standardized height, and decorative grilles could be dispensed ;with, as they serve no useful purpose. Many other features came in for criticism, and the complete paper, which gives a useful indication 'as to what the American operator thinks of his vehicle, should help the Society in framing any proposals it decides to make in connection with post-war vehicle design.