The Man
7th April 1944
Page 22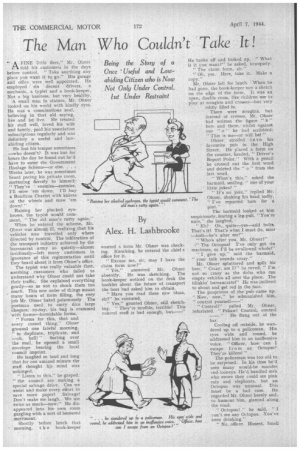 Page 23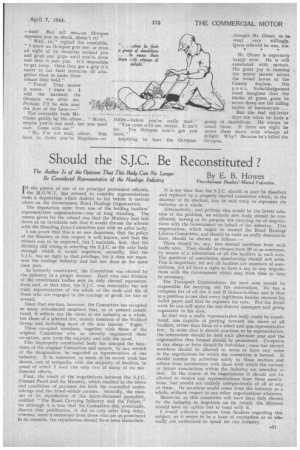 Page 22, 7th April 1944 —
The Man
Close
Who Couldn't Take It!
Being the Story of a _Once • Useful and Lawabiding Citizen who is Now Not Only Under Control, tut Under Restraint
By Alex. H. Lashbrooke
" /71 A FINE little fleet," Mr. Ohner
told his customers in the days before control. " Take anything any place you want it to go." His garage and office were well appointed. He employed • six decent drivers, a mechanic, a typist and a book-keeper. Not a big business, but very healthy.
A small man in statstre, Mr. Ohner looked on his world with kindly eyes. He was a conscientious soul, believing in that old saying, live and let live. He treated his staff well, loved his wife and family, paid his association subscriptions regularly and was definitely a useful and lawabiding citizen.
He lost his temper sometimes —who doesn't? It was lost for hours the day he found out he'd have to enter the Government Haulage Scheme—or else. . . Weeks later, he was sometimes heard pacing his private room, muttering fiercely to himself:. " They're • enemies—enemies. I'll mow 'em down. I'll buy a Boadicea Chariot with knives on the wheels and mow. 'em down! "
Raising her plucked eyebrows, the typist would comment, " The old man's ratty again."
When he entered the scheme, Mr. Ohner was almost ill, realizing that his vehicles now travelled only where directed by control. The infiltration of the transport industry achieved by the bureaucrat army so quietly—almost insidiously—left many customers in ignorance of this regimentation until they heard about it from Ohner's office.
The typist was really valuable then, soothing . customers who failed to understand why Ohner could not take their traffic. She explained everything gently—so as not to shock them too much. This new order of things meant many hours of form filling, the very job Mr. Ohner hated poisonously The postman used to carry nsice large cheques; to-day, his bag is crammed with forms—formidable forms.
" Forms for this, that and every cussed thing," Ohner groused one fateful morning, " in duplicate, triplicate, and —oh, hell! " Sorting over the mail, he opened a small envelope bearing the local council imprint.
He laughed so loud and long that for one amazed minute the Staff thought his mind was unhinged.
" Listen to this," he gasped,. " the council are making a special salvage drive. Can we assist and make every, effort to save mare paper! Salvage! Don't make me laugh. We use twice as much—now:" He disappeared into his own room gurgling with a sort of bemused .merriment.
Shortly before lunch that morning, t h e book-keeper wanted a form Mr. Ohner was checkin"e. Knocking, he entered the chief s office for it.
" Excuse me, sir, may I have the claim form now?"
" Yes," answered Mr. Ohner absently. He was sketching. The book-keeper noticed on the desk the booklet about the future of transport the boss had asked him to obtain.
" Have you read these new ideas, sir?" he ventured.
"Yes," grunted Ohner, still sketching: " They're terrible, terrible! This control stuff is bad enough, but " He broke off and looked up.. " What i3 it you want?" he asked, brusquely. " The claim form, sir."
" Oh, yes. Here, take it. Make a copy."
Mr. Ohner left for lunch. When he had gone, the book-keeper saw a sketch on the edge of the form. It was an open, double cross, like children Use to play at noughts and crosses—hut very oddly filled in.
There were noughts, hut instead of crosses, Mr. Ohner had written the figure " 8 " here and there, whilst against one " o " he had scribbled: " This is me—or will be! "
Ohner, strolled into his favourite pub in the High Street. He paced a form on the counter, headed, " Driver's Report Point." With a pencil he crossed out the first word and deleted the " o " from the last word.
"What's this," asked the barmaid, smiling, " one of your little jokes? "
" It's no joke," replied Mr. Ohner, shaking his head sadly. " I've reported here for a pint."
• The barmaid looked at .him suspiciously, fearing a leg-pull. "You're nuts," she laughed.
"Eh? Oh, quite—yes—add bolts. That's it! That's what I must do, mis., —bolt—he's after me!"
" Who's after you, Mr. Ohner?" The Octopus! I've only got tiz machines, so be swallowed whole!" "I give up," said the barmaid, " your talk sounds crazy." , Mr. Ohner spluttered and spilt his beer. " Crazy, am I?" he, raved, " I'm • not so crazy as the dolts who run empty vehicles all over the place. The blinkin' bureaucrats!" He was inclined to shout and get red in the face.
The proprietor of the-pub came up. "Now, now," he admonished him, "control yourself—"
" Control!" yelled Mr, Ohner, infuriated. " Pshaw! Control, control ." He flung out of the bar.
Cooling off outside, he wandered up to a policeman. His eyes wide and round, he addressed him in an inoffensive voice. " Officer, how can I escape from an Octopus? They're killers! "
The policeman was too old to be surprised. In his time he'd seen many would-be suicides and looneys. He'd handled men' who swore they could see pink rats and elephants, but an Octopus was unusual. This must be a bad case. He regarded Mr. Ohner keenly and, to humour him, glanced along the road.
" Octopus? " he said, " I can't see any Octopus. You've been drinking."
" No, officer. Honest. Smell —huh! But tell me—an Octopus squeezes you .to death, doesn't it? "
" Well, sir," replied the constable, "t know an Octopus gets one, or even all eight of its tentacles around you and grips and grips until you're done and then it eats you. It's impossible to get away. Once they get a grip it's easier to cut their tentacles off altogether than to make.thern release their hold."
" There! That makes it worse. I knew it. I told the barmaid the Octopus was after me. Perhaps I'll be safe near the Arm of -the law—" The constable took Mr. Ohner gently by the elbow. " Mister, maybe you're not mad, but you need care. Come with me."
" No, I'm not mad, officer, You have to think you're Napoleon—or Hitler—before you're really , "You come with me, mister. far, The Octopus won't get you there."
Anything to beat the Octopus, mad." It isn't thought Mr. Ohner, so he went very willingly. Quite relieved he was. too.
Mr. Ohner is supremely happy now. He is still associated with motors. His great joy is running . the motor mower across the broad lawns at the County Asylum. His p o o r, form-bludgeoned mind imagines that the blades of green grass he mows down are the falling bodies of bureaucrats .
But the real red-letter days are when he finds a group of dandelions. He stoops to count them. If there are eight he mows them down with whoops of delight. Why? Because he's killed the Octopus.