f-cwt. of Ball and Roller Bearings in a Heavy Vehicle
7th April 1944
Page 20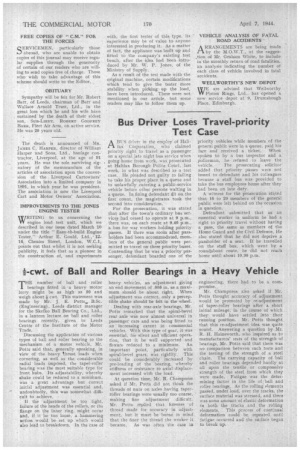 Page 20, 7th April 1944 —
f-cwt. of Ball and Roller Bearings in a Heavy Vehicle
Close
THE number of ball and • roller bearings fitted in -a heavy motor lorry might be as high as 50 and weigh about cwt. This statement was made by Mr. J. E. Potts* B.Sc. (Engineering). Leeds district manager for the Skefko Ball Bearing Co., Ltd., in a lantern lecture on ball and roller bearings recently, given to Leeds Centre of the Institute of the Motor Trade.
Discussing the application of various types of ball and roller bearing to the mechanism of a motor vehicle, Mr. Potts said that, generally speaking, in view of the heavy thrust loads when cornering, as well as the, considerable radial loads impesed, the taper-roller bearing was the most suitable type for front hubs. Its adjustability, whereby shake could be reduced to a minirhum, was a great advantage but correct initial adjustment was essential and, undoubtedly, this was 'somewhat difficult to achieve.
If the adjustment be too. tight, failure of the heads of the rollers, or the flange on the inner ring, might occur and, if it be too loose, a hammering action would be -set up which would also lead to breakdown. In the case of
heavy vehicles, an adjustment giving an end movement of .005 in. as a maximum should be about right. When adjustment was cOrrect, only a perceptible shake should be felt in the wheel.
Dealing with rear-axle bearings, Mr. Potts remarked that the spiral-bevel rear axle was now almost universal in passenger cars and was being fitted to an increasing extent in commercial vehicles. With this type of gear, it was essential, for silent and efficient operation, that it be well suPported and flexure reduced to a minimum. An important point, particularly with spiral-bevel gears, was rigidity. This could be considerably increased by pre-loading of the bearing, whereby stiffness or resistance to axial displacement increased with the load.
At question time, Mr: R. Champness asked if Mr. Potts did not think the threads of nuts on axles having taperroller bearings were usually too coarse, making fine adjustment difficult. Mr. Potts replied that fineness of thread made for' accuracy in adjustment, but it must be borne in mind that the finer the thread the weaker it became. As was often the case in
engineering, there had to be a corn-, promise,
Mr. Champness also asked if *Mr. Potts thought accuracy of adjustment would be promoted by re-adjustment of taper-roller bearings after a short Initial mileage,' in the course of which they would have settled into their running position. Mr. Potts thought. that this re-adjustment idea was quite sound. Answering a question by Mr. R. H. Hainsworth, who inquired as to manufacturers' tests of the strength of bearings, Mr. Potts said that there was no comparison between such tests and the testing of the strength of a steel chain, The carrying capacity of ball and roller bearings depended hardly' at all upon the tensile, or compressive strength of the steel from which they were made. Fatigue was the determining factor in the life of., ball and roller bearings. As the rolling elements passed, under load, over the tracks, the surface material was stressed, and there was some amount of elastic deformation.
Yin both the tracks and the rollinecontinualelements. This Process of continual
deformation could_ be repeated until fatigue occurred and the surface began to break up.