Bus Driver Loses Travel-priority Test Case
7th April 1944
Page 20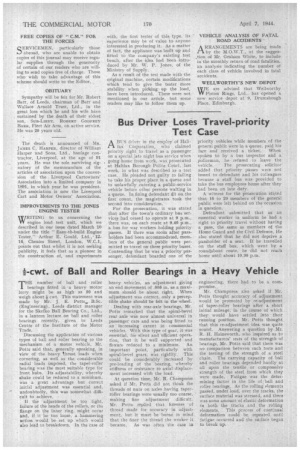 Page 20, 7th April 1944 —
Bus Driver Loses Travel-priority Test Case
Close
ABL'S driver in the employ of Halilax Corporation, who claimed priority right to travel as a passenger an a special late night bus service when ,going home froth work, was prosecuted at Halifax Borough Police Court, last week, in what was described as a test case. He pleaded not guilty to failing to take his proper place in a queue and to unlawfully .entering a public-service vehicle before other persons waiting in a queue. In tining.defendant £1 on the first count, the magistrates took the second into consideration.
For the prosecution, it was stated that after the town's ordinary bus'services had ceased to operate at 9 p.m" there was, on each route at 9.40 p.m., a -bus for war workers holding priority. passes. If there was room after passholders had been accommodated, members of the general public were permitted to travel on these priority buses. Contending that he was a priority passenger, defendant boarded one of the priority vehicles while Members of the general public were in a queue, paid his fare and received a ticket. When spoken to by a bus inspector and a policeman, he refused to leave the vehicle. The prosecuting solicitor added that priority passes were not issued to defendant and his colleagues because a staff bus was provided to take the bus employees home after they had been on late duty.
A witness for the prosecution stated that 15 to 20 members of the general public were left behind on the occasion in question.
Defendant submitted that as an essential worker in uniform he had a right to priority travel without having a pass, the same as members of the Home Guard and the Civil. Defence. He also stated that he did not deprive a passhoider of a seat. If he travelled on the staff bus, which went by a round,about route, he did not reach home until about 10.30 p.m.