Select Committee's Indictment of M.O.W.T. Haulage L AST week we summarized
7th April 1944
Page 16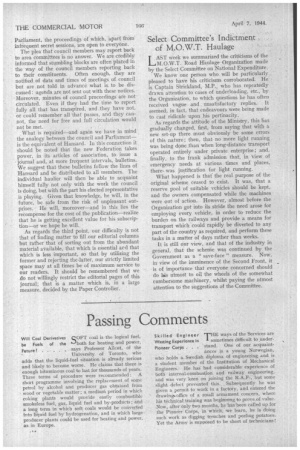 Page 16, 7th April 1944 —
Select Committee's Indictment of M.O.W.T. Haulage L AST week we summarized
Close
Keywords :
the critiCisms of the M.O.W.T. Road Haulage Organization made by the Select Committee on-National Expenditure.
We know one person who will be particularly pleased to have his criticisms corroborated. He is Captain Strickland, M.P., who has repeatedly• drawn attention to cases of underloading, etc., by the Organization, to which questions he has often received vague and unsatisfactory replies. It seemed, in fact, that endeavours were being made to cast ridicule upon his pertinacity.
As'regards the attitude of the Ministry, this has gradually changed, first, from saying that with a new set-up there must obviously be some errors of this nature ; then, that no more light running was being done than when long-distance transport operated entirely under, private enterprise; and, finally, to the frank admission that, in view of emergency needs at various times and places, there,. was justification for light running.
What happened is that the real purpose of the original scheme ceased to exist. It was, that a reserve pool of suitable vehicles should be kept, and the owners compensated while the machines were out of action. However, almost before the Organization got into its stride the need arose for employing every vehicle, in order to reduce the burden on the railways and provide a means for transport which could rapidly be diverted to any part of the country as required, and perform these tasks in a matter of days rather than weeks.
It is still our view, and that of the industry in general, that the scheme was continued by the Government as a " save-face " measure. Now, inview of the imminence of the Second Front, it is of importance that everyone concerned should do 14is utmost to oil the wheels of the somewhat cumbersome machinery, whilst paying the utmost attention to the suggestions of the Committee.